French Christmas Desserts and Traditions
The most traditional of French Christmas desserts is the bûche de Noël (Yule Log). The other classic is Galette des Rois (Three Kings Cake) served on January 6 celebrating the Epiphany and marking the end of the Christmas season.
What's so exciting is that there are many French Christmas desserts and depending on what family you ask and where they live in France you may get a different answer. Christmas traditions in France varies according to region but the major classic is -
The Major French Christmas Dessert Classic
Bûche de Noël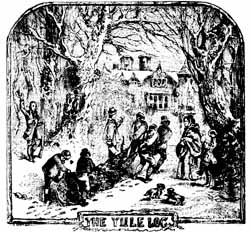 The bûche de Noël, one of the oldest French Christmas desserts dates back to medieval times.  The story behind this classic -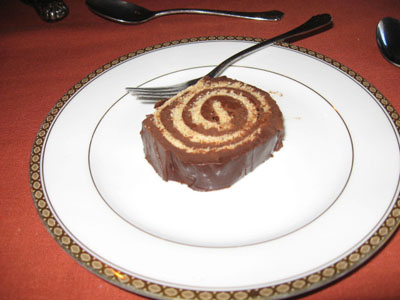 To make your own try this bûche de Noël/yule log recipe. A great French dessert recipe and easy to follow.
Christmas in France is also modern and people have for dessert what they most enjoy and that becomes their tradition.
My friend Sylvie in Alsace France declares that her favorite desserts to serve at Christmas are:
Corinne from Lyon France favors one of the more famous French desserts:

Didier from Mennecy in Northern France favors chocolate desserts from a chic restaurant in Paris, "Sarment St. Gervais". (but at home he'll be having the traditional Buche de Noel)

A large plate with 14 small delicious desserts all eaten in a specific order.

Paris at Christmas is lots of fun and a great time to go.
Muriel and Philip will be serving a medley of desserts:

on a plate, 1 scoop of ice cream, a slice of cake with chocolate, a macaroon, fruit cut "lace", and a candied fruit.
Many French Christmas dessert traditions are shared by the country and not specific to region:
Marzipan, Marrons glacés (candied chestnuts), chocolates and other candy are some of the French holiday traditions for Christmas desserts.
What else to do besides eat dessert...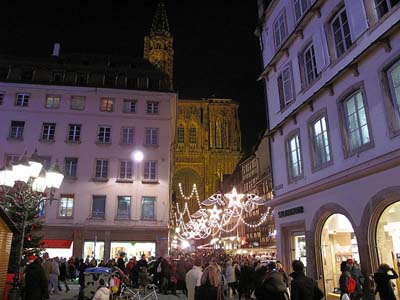 Christmas in France
a guide to what and where.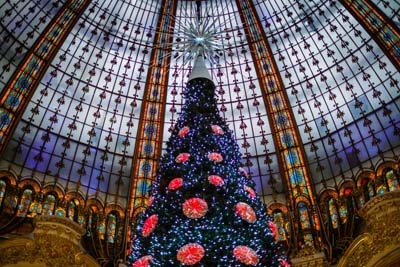 Paris at Christmas
Stunning decor and fun things to do.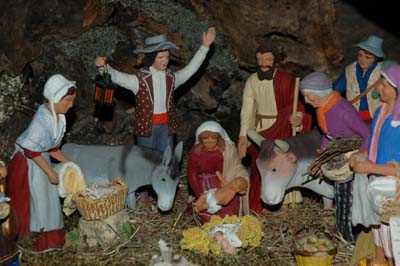 Christmas Traditions in France - delightful regional variations.

Traditional French Christmas Desserts
by Region

Provence
Les Treize Desserts ©Creative Commons
Les Treize Desserts (Thirteen Desserts)
An ancient custom of French culture in Provence, 13 desserts are set out on Christmas Eve and served at the Réveillon (Christmas Feast). The number 13 is thought to symbolize Christ and his 12 apostles but no one can agree on what it stands for exactly. In some parts of Provence the number rises to 15.
The combination that makes up Les Treize Dessert is different according to what area of Provence you visit. Here is the gamut of delicious possibilities:
Mostly consisting of fresh and dried local fruit harvested in late November and stored in a cool place until Christmas.
apple
winter pear
mandarin orange
winter melon
local grapes
dried golden prunes
glazed fruit
"Mendiants" representing the color of monks' robes:
almonds
dried figs and dates
raisins
Walnuts
Nougat blanc: dates as far back as the 18th century. (Made with sugar, honey, nuts, candied fruit)
Nougat noir au miel
Quince cheese (a jelly-like candy)
Casse dents of Allauch (a sweet buscuit)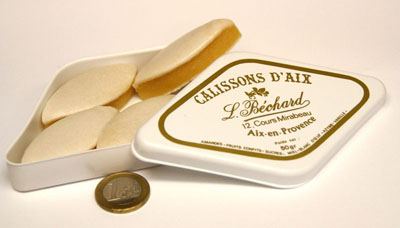 Calissons ©Creative Commons
Calisson of Aix-en-Provence (an almond candy made in Aix-en-Provence)
Fougasse: a Provencal sweet bread made with cinnamon, sometimes anise Also may be served at Epiphany.
Sweet breads made with olive oil, anise, and orange flavored water. According to cultural tradition must be broken not cut to ensure successful harvests.
Galette de Noël (flat, deep-fried disk dusted with sugar and dipped into warm honey)
Panado (a Christmas tart filled with apples)
Apple doughnuts
Tarte de la Veille or other simple fruit tarts
More Christmas Dessert Traditions in France
Alsace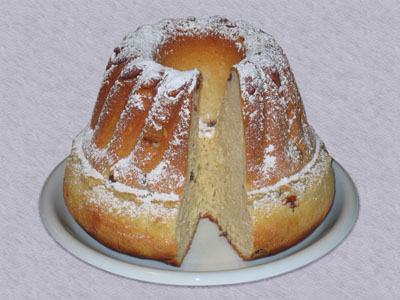 Kouglof of Alsace ©Creative Commons

       Kouglof (bundt-like cake made with brandy and dried fruit)
       Berewecke (dried fruit cake)
Eastern France
What else goes on in France at Christmas?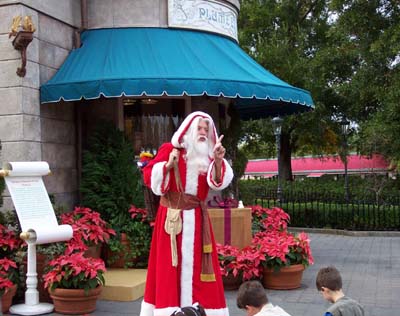 French Christmas traditional shopping, decorations, Midnight Mass and fun things to do.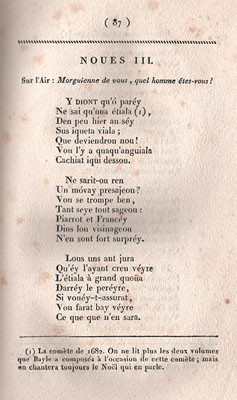 After dessert why not sing some French Christmas carols? Great way to practice French with the family.

Equally fascinating, there are many other facets to the culture of France waiting to be explored.
Return from French Christmas Desserts to French Culture Adventures
Copyright ©2022 by Deborah Dutton, French-Culture-Adventures.com
All rights reserved