Paris At Christmas
  What to See and Do
Paris at Christmas is a wonderland of beauty and jam packed with things to do in the tradition Christmas celebrations in France.
Here are my suggestions on what to do at Christmas in Paris France. This way you can experience at their fullest, French Christmas traditions in France.
1 - Christmas lights and displays
Christmas in France on the Champs Elysee ©creative commons
Start feasting your eyes. The French are such artists when it comes to visual display and Paris at Christmas is an extra explosion of beauty.
December through beginning of January
Where to see the lights
The big boulevards:
Along the Champs-Elysee to the Arc de Triomphe – trees strung with white lights
Ave Montaigne, Opéra, and Rue du Faubourg St-Honore
Point des Invalides white lights line the arches
Eiffel Tower and trees lit at its' base
The Paris Christmas tree opposite Notre Dame Paris Cathedral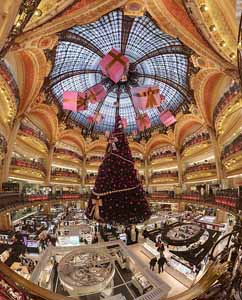 Christmas in Paris France at the Gallery Layfayette © creative commons
Paris France Christmas - stores aglitter
Paris Department Stores

All the Paris department stores are decorated for Christmas. The most well known and lavish:
Galeries Lafayette – starts Nov 4
40 Blvd Haussman (7th arr.)
20 m high tree w/ colored lights. Each year has a different theme of colors and story. Mini concerts on stage the first two weeks of December.
Store windows dressed artists with animated displays based on the theme  – Free
64 Blvd Haussmann
9th arr.
2- Outdoor France Christmas Markets and displays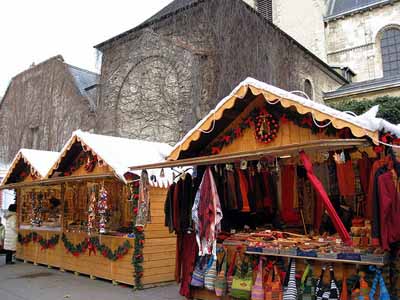 France Christmas markets at St Germain de Pres ©creative commons
Practically every square in the city has a Christmas Market.
The biggest: Champs-élysées – from Nov 19 – Dec 28
From the roundabout to the Place de la Concorde
stalls offering crafts, food, Christmas decorations
Crèche des Andes
Early Dec – early Jan
Under the canopy in Place de l'Hotel de Ville, Marais
Life size christimas crèche in the south American style
It's fascinating to learn about French Christmas traditions and how they differ from our own and from region to region.
Paris at Christmas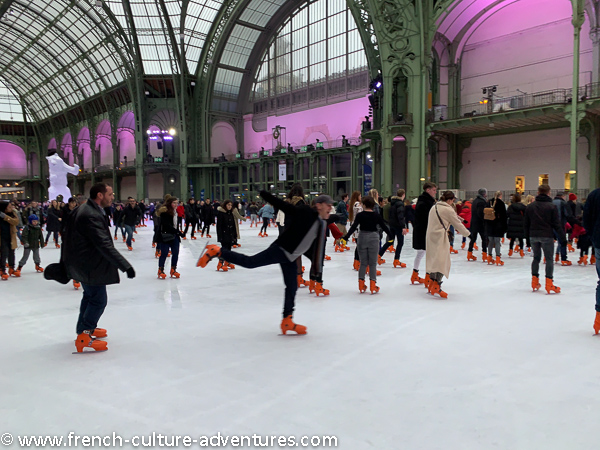 Skating fun at Le Grand Palais
3- Outdoor ice skating
If you like to skate, they have turned Le Grand Palais into the world's largest ice skating rink. You can buy your tickets ahead of time on-line or at the venue: https://www.legrandpalaisdesglaces.com/en/home/
Outdoor skating can be found at other locales throughout the city. Some have free admission. Skate rental may be cash only so make sure you've got Euros on you. Past sites have included: Gare Montparnasse, and the Trocadéro. 

Paris at Christmas
4- Especially for Kids
At Disneyland Paris holidays are celebrated with gusto.
From early November through January there are France Christmas markets, parades and events. Disneyland Paris hotels offer a wide range of accommodations from luxury to budget.
Fondation d'Auteuil
In the 16th arrondisment,
40, rue Jean de La Fontaine
75016 Paris 75016 Paris
2 hectar (just under 5 acres) fair dedicated to Christmas
Demonstrations of crèche building by artists
Concert Sat and Sun of Christmas music
Jugglers, stilt walkers, accordion players, dance shows
Ages 6-12 : craft workshops, face painting…
Markets: artists sell their ware
Flea market and Cristmas trees for sale
5- Paris France Christmas Music Concerts
Concerts are everywhere, many are free, where you can hear French Christmas carols and other seasonal classical music.

Learn these French Christmas carols so you can sing along at Mass or sing at home to brush up on your French.
Things change year to year but past concert on Christmas day in Paris:
St. Eustache is a popular Holiday Concert venue. Book early as they tend to sell out.

Other Christmas concerts can be found at:  

https://www.classictic.com/en/sitesearch/?search=Paris

Paris at Christmas
6- Attend Christmas Eve Mass 
A cultural event
You don't have to be Catholic. Everyone goes to Mass Christmas Eve. (Dec 24) people start to arrive by 11pm for pre-music where you'll hear French Christmas carols sung by a choir. The Mass starting at Midnight.
There are over 300 churches in Paris to choose from. Notre Dame Paris and Saint Eustache are famous for their music.
Notre Dame Paris is the biggest scene and most crowded
Saint Eustache Paris is considered the most beautiful church in Paris, dating back to the Renaissance with a very famous organ.
7. The Reveillon – Paris France Christmas feast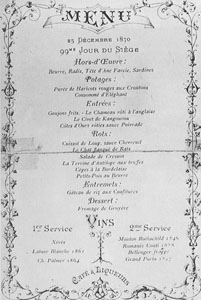 French revolution food Christmas menu
Many restaurants in Paris stay open Christmas eve serving the traditional Reveillon, (the Christmas feast) after Mass. And, Christmas day in France especially Paris, they are also open. Make sure you reserve well ahead of time.
One of the French Christmas traditions is to serve a Buche de Noel for dessert. (see… yule log recipe for more details)


Helpful Paris articles:

Check out SortiraParis.com. Lists all the happenings in town all year long.
Paris facts to know before you go.

France food menu guide for easier ordering.


The Louvre Paris France


A tourist map Paris with the tops sites indicated


Lodging in Paris:

An overview of Paris boutique hotels


An overview of Paris budget hotels