Christmas Fruit Cake Recipe
from Alsace
This Christmas fruit cake recipe is for Berewecke (Berwecka), a delicious fruit cake from Alsace France. It is also known as pear bread and is a traditional French food at Christmas in Alsace.
Alsace celebrates the Christmas season in a big way with beautiful decorations, Christmas markets and delicious desserts.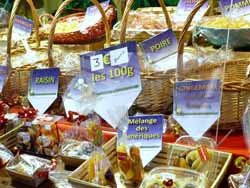 ---
Alsace wine is famous and this recipe calls for Kirsch from the region. During the wine growing season the vineyards make for wonderful walks and drives along the Alsace wine route. A very popular vacation spot.
---
A very dense cake, Berewecke is choc full of dried fruit and nuts. Hikers and skiers bring it in their backpacks as an energy snack. Some call it the Alsacian power bar. The Rodale press gives this Christmas fruit cake a thumbs up for being nutritious and healthy.
This Christmas fruit cake recipe is from my friend in Alsace France and therefore is in metric units. I have done the conversion to non metric units as closely as possible. If you don't own a metric kitchen scale I strongly suggest recommend it. It is so much more accurate and makes for easy French desserts.
---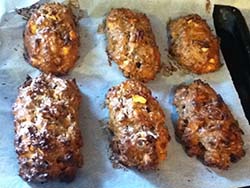 Christmas Fruit Cake Recipe of Alsace

Berewecke (Berwecka)
Makes 3 Berewecke 500 g (1 lb.)
Ingredients:
200 g dried pears [1/2 lb. (7 1/8 oz.)]
75 g of dried apples [1/8 lb (2 5/8 oz)]
100 g dried figs 3 1/2 oz
100 g pitted prunes3 1/2 oz
100 g raisins3 1/2 oz
150 g of walnuts5 1/4 oz
50 g candied orange peel (1/8 lb)
50 g candied lemon peel (1/8 lb)
100 g chopped almonds (1cup=92 g)
50 g of hazelnuts (1 cup=120g)
20 g cinnamon powder
a little grated nutmeg
10 cl Kirsch d'Alsace [4 oz. (1/2 cup)]
200 g sugar (1 cup)
150 g flour (1 cup=125g)
150 g yeasted bread dough
In the US cake flour or pastry flour is more like French flour than all-purpose American flour.
---
Christmas Fruit Cake Recipe step by step guide:
1. Chop the figs, orange peel and candied lemons.
2. Add raisins and mix well, marinate with 10 cl (1/2 cup) Kirsch
for 24 hours.
4. In some water simmer (to soften) pears, apples and dried plums for 5 minutes. Drain and chop coarsely. Save water.

5. When dough is ready preheat oven to 375° F (190° C)
6. Next, add the walnuts, almonds, hazelnuts and cinnamon to your marinated fruit.
7. Finish the recipe by adding sugar and bread dough, and flour to give it consistency. If the mixture seems too dry fold in some of the soaking water from the fruit.
8. Shape into 3 loaves, place on a cookie sheet. Garnish the top of cakes with whole almonds and walnuts.
9. Bake 375° F (190 ° C) allow 30 to 40 minutes depending on the size.
The "Berawecke " is served in very thin slices and keeps several days.
This recipe is brought to you by Sylvie from Alsace
More delicious French dessert recipes from Sylvie: moose recipes
---
Return from Christmas Fruit Cake Recipe to Christmas Dessert Recipes
Return to French Dessert Recipes
Copyright ©2022 by Deborah Dutton, French-Culture-Adventures.com
All rights reserved