Mousse Recipes
Charlotte Chestnut Mousse French Dessert


I adapted this French Mousse Recipe from that of my friend Sylvie in Alsace who is a superb chef. She served this at her New Year's Eve dinner party.
Charlotte a La Mousse de Marrons, Crème Anglaise
Charlotte recipes… This cold dessert is called a charlotte. It is a mold lined with ladyfingers or cake and filled with chestnut mousse. Crème Anglaise is served on the side.
One of the easy French desserts to prepare, I served it for dessert at dinner for friends. My guests gave it 5 stars. Even the teenagers loved it!
---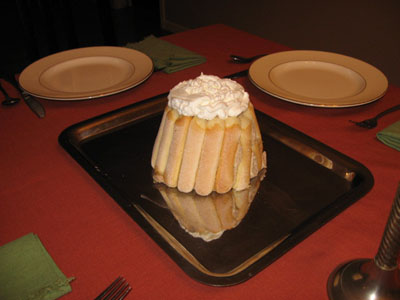 My first – delicious and not bad looking although I'll make prettier next time.
---
Chestnut Mousse Recipe with Creme Anglaise
(Charlotte a La Mousse de Marrons, Crème Anglaise)
French Recipes Desserts:
Ideal season to serve: October to end of February.
Prep time: 1 hour
Cooking time: 8 minutes
Serves 6
Ingredients:
16 cm charlotte mold
36 lady fingers
250 g of crème de marrons vanillee
6 egg whites
9 oz whipping cream (1/4 liter)
5 leaves of gelatin (or 2 ½ tsp granulated gelatin)
2 tablespoons rum
Crème Anglaise (see creme anglaise recipe)…
For the Decoration:
6 marrons glaces (available at gourmet shops) not necessary – I didn't use but it makes for a more beautiful presentation
4 oz whipped cream
---
French Recipes Desserts
Chestnut Mousse Recipes step by step guide
Prepare the charlotte and crème anglaise the day before.
1. Soften the gelatin leaves in cold water in a bowl. (Using granulated gelatin wait until step 3)
2. Add rum to the cream of chestnuts and stir until smooth.
3. Boil heavy cream, then stir in well-drained gelatin sheets, let them melt. For granulated gelatin: sprinkle over cream and stir thoroughly.
4. Pour heavy cream mixture into cream of chestnuts. Mix and cool.
5. Beat egg whites until stiff and form a peak.
6. When the chestnut mass starts to gel, add beaten egg whites into the mixture gently with a spatula.
7. Arrange the ladyfingers curved side down in the bottom of the mold to form a rosette by cutting them into a wedge shape. Then line the sides of the mold with ladyfingers upright and pressed together curved side against the side of mold. If your mold slants outward you may have to trim to make slightly wedge shaped. *
8. Fill the mold with the Chestnut mousse.
9. Place the charlotte in the refrigerator overnight.
10. Unmold the charlotte; decorate it with whipped cream and marrons glaces. Serve with the crème anglaise (custard sauce) on the side.
---
*Julia Child instructs not to use mushy ladyfingers for charlotte recipes (like the kind you find in the supermarkets in the US). Make your own using this genoise recipe… . Or buy the hard version, this charlotte mousse recipes sits for a day so they'll soften.
---
In France dessert French wine is often served with French desserts. Serve with sweet dessert wine from Alsace such as Selection de Grains Nobles Gewurztraminer (1976-1983) …learn about French wine regions.
---
The first Charlotte originated in England and was served hot. The 19th century French chef, Antonin Careme, invented the cold version. He is the man behind many famous French desserts, baking Napoleon's wedding cake and other things for royalty and is considered the first celebrity chef. You can find a biography written by Ian Kelly and a one-man play.
---
Much famous French food includes chestnuts. The French use them sweet in desserts like mousse recipes, or savory like in chestnut stuffing.
---
Food articles:

For more easy and delicious French dessert recipes…
Are French menus confusing? A guide to France food restaurant menus for eating out in France with confidence.


Hosting a dinner party? Try these easy French recipes for your party.

Food is one of many important aspects of the culture of France.


Having a romantic dinner party?What a great occasion to try out some of these French love phrases.


Will you be eating a famous French dessert in Paris?

Why not shop first to get an appetite... the best shopping in Paris guide for you.

Where to stay in Paris:
An overview of Paris boutique hotels


An overview of Paris budget hotels
Return from Mousse Recipes to French Culture Adventures
Copyright ©2023 by Deborah Dutton, French-Culture-Adventures.com
All rights reserved