Yule Log Recipe
French Christmas Dessert

This Yule Log Recipe will give you what is know in French as the Buche de Noel. One of the French Christmas dessert recipes - like a jelly roll without the jelly.
French Christmas traditions include the Buche for dessert at Christmas meal. I'd never eaten a buche de noel until I married into a French family. I find is delicious and fun to decorate. It is one of the famous French desserts.
The Buche de Noel dates back to Celtic times before Christmas in France was celebrated.
French holiday traditions and Christmas celebrations in France, as you would expect, always include fabulous food. After the Buche de Noel in early January comes the Three Kings Cake (Galette des Roi).
---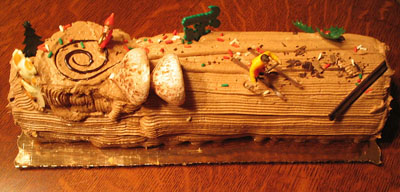 Buche de Noel ©creative commons
---
Yule Log Recipe (Bûche de Noël)
French Recipes Desserts
1. Preheat oven to 350 F
2. Grease one 15 ½ x 10 ½ x 1 inch, line with wax or parchment paper

3. Grease parchment paper
Set aside
The Cake
4. Prepare batter using Genoise recipe for Genoise Cake
5. Scrape batter into pan and spread evenly. Bake in lower third of oven until top springs back when lightly pressed. About 5 - 6 minutes maybe longer.
6. Sprinkle clean dish towel with sifted powdered sugar
7. Loosen warm cake from pan edges and invert onto dish towel
8. Remove pan carefully peeling off paper.
9. Gently roll up cake in towel from short end, jelly roll style
10. Let cake cool completely on wire wrack.
* You can store in the refrigerator for a day and do the filling, frosting and assembly the next day.
---
Yule Log Recipe
Chocolate Filling
Ingredients:
1 cup semisweet chocolate chips
¾ cup heavy cream
1. Melt chocolate chips and cream in heavy 1 qt saucepan over low heat until chocolate melts. Pour into small bowl.
2. Cover and refrigerate 1 ½ hours or until spreadable.
---
Yule Log recipe
Mocha Frosting
Ingredients:
¾ Tbsp unsalted butter
¾ cup whipping cream
9 oz bittersweet chocolate, chopped

1 Tbsp instant coffee dissolved in 1½ tsp water
3. Bring cream and butter to boil over medium high heat, stirring to melt. Remove from heat.
4. Add chocolate, whisk until melted.
5. Transfer to bowl. Let cool at room temperature till thick enough to spread, about 1 hour.
---
Yule Log Recipe
Assembly
6. Unroll cake, remove towel.
7. Spread cake with filling to within ½ inch of the edge.
8. Re-roll cake placing seam side down
9. Frost with Mocha Frosting
10. Using prongs of a fork drag lengthwise to simulate bark
11. Garnish with Marzipan Mushrooms or chopped pistachios.
---
To create other famous French desserts try this creme-brulee-recipe and Grand Marnier souffle recipe.
---
Food articles:

Are French menus confusing? A guide to France food restaurant menus for eating out in France with confidence.

Food is a major highlight of the culture of France.

Hosting a dinner party? Try these easy French recipes for your party.

Wine is important to a French meal. See the French wine regions where these wines are grown.

Having a romantic dinner party? What a great occasion to try out some of these French love phrases.


Will you be eating a famous French dessert in Paris?

Why not shop first to get an appetite... the best shopping in Paris guide for you.

Where to stay in Paris:
An overview of Paris boutique hotels

An overview of Paris budget hotels


Retrun from Yule Log Recipe to French Culture Adventures
Copyright ©2022 by Deborah Dutton, French-Culture-Adventures.com
All rights reserved