Geography of France

Learning the geography of France when planning your vacation can open your eyes to undiscovered places... mountains to climb, rivers to forge, and cities to explore.
Metropolitan France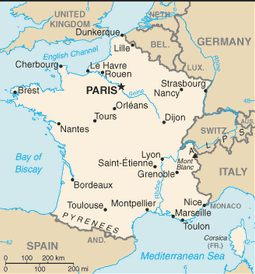 On the continent of Europe is Mainland France.  Officially called Metropolitan France.
It is the the 3rd largest country in Europe (#1 Russia, #2 Ukraine).
It is 212,935 square miles (551,500 square km) in surface area.

France borders eight  countries: Belgium, Germany, Italy, Luxembourg, Monaco, Switzerland, Spain, and Andorra.

It has 2,129 miles (3,427 km) of coastline and lies on the Mediterranean Sea, Atlantic Ocean, English Channel/Bay of Biscay
France Population

Metropolitan France: 62,814,233
Metropolitan + five overseas regions: 65,951,611

Ethnic Groups: Celts, Romans, Germans, Slavic, Asians, North Africans, and Basque.

75% of the population live in cities or towns.
Major Cities:  the largest city is Paris with a population of 10.41 million, followed by Lyon (1.2 million) , Marseille/Aix-en-Provence (1.457 million), Lille (1.028), Nice/Cannes (977,000) Bordeaux (640,000)
Terrain and Mountains in France
France in the north and west consists of flat plains or gently rolling hills. The south and east is mountainous.

Highest point: Mont Blanc (4,807 m)

Major mountains and hills: Alps, Pyrennes, Vosges, Massif Central, Jura.

Lowest point:Rhône River delta (-2 m)

Mont Blanc in the Alps

Places to Visit:
The Alps are a popular destination for skiing in the winter and hiking in the summer.
The Camague in the Rhône River delta is a protected national park filled with flamingos, beaches, gentle weather and the famous wild Camargue horses.
Rivers of France

The Loire is the longest river in France, followed by the Seine, Garonne, and Rhône River. The Rhine river forms the border with Germany.
Climate

France has a temperate climate.

Major Industries of France

Cars, aerospace, manufacturing, chemical products, fashion, textiles, and tourism.
France Overseas

France isn't just in Europe. 
There are 5 overseas regions: Guadeloupe, Martinique (Central America & Caribbean), French Guiana (South America), Mayotte (Africa), Reunion (Africa)

1 territorial collective: Corsica

4 overseas collectives: Sainte-Pierre and Miquelon, Saint Barthelemy, Saint Martin, Wallis and Futuna
1 overseas country: French Polynesia
1 "collectivite sui generis": New Caledonia
Fun for kids I discovered this on-line geography game.

Return from Geography of France to French Culture Adventures

photo © Creative Commons

Copyright ©2022 by Deborah Dutton, French-Culture-Adventures.com
All rights reserved