Camping in France
Resort or Sauvage?
When I think of camping in France or anywhere else I think Sauvage, what the French call camping rough, or primitive as we call it in the States, but my eyes opened to a part of French culture I was not aware of.
I am astounded by the huge array of camping in France. Some French camp sites are literally like staying at a resort. And the cost is unbeatable. For kids, a wonderland and stuff for parents too.
Camping resort in lake area Haute Charente in Pressingac southwest France
A family camping France holiday is a great choice. For peace and solitude try camping France in tent off season.
Camping is very much a part of the culture in France especially for families. Our Breton cousins have been camping their whole lives. They started as kids with their parents and then in turn with their own kids.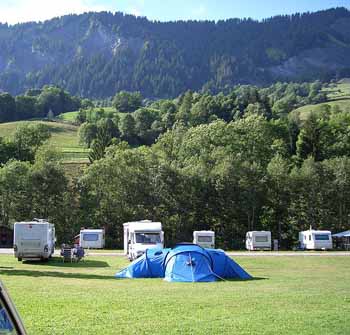 Camping in Flumet in the French Alps
Our cousin Isabelle has has been camping in Brittany all her life and she suggests her 4 star favorites plus other great locations for French camp sites.
Why Camp?
Save Money - Nothing beats the price. Compared to a gite or a hotel the savings is huge. Prices range in high season from 35 euros or more for a four star location to 15 euros for 1 star. You can choose a camping caravan France holiday in French camp sites with many amenities, just a few, or none. And it's often free for your own tent camping in France, as in Camping Sauvage.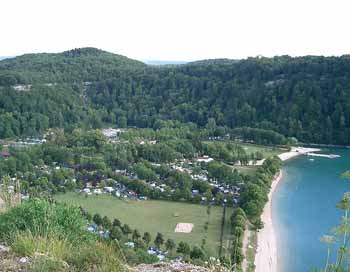 Camping on Lac de Chalain in the Jura
Pristine Locations, near to nature, sometimes steps away from the ocean! A Brittany camping France holiday is a good choice for being close to the Atlantic or English Channel beaches in France. French camp sites near the the beaches in Normandy are also available while Camping in Normandy, and camping France in Languedoc Roussillon near the Atlantic coast France beaches.
Camping in France Rating System
There are 1 - 4 star ratings based on amenities.
1 star: usually more remote (always toilets and running water but sometimes only cold water)
2 stars: also usually more remote, but with toilets and hot and cold running water.
3-4 stars: big with lots of amenities (including electricity for tents and caravans) Sometimes you can hire tents, camping vans, or rent bungalows.
A star denotes amenities, like in hotels but doesn't denote how clean the place is or how well run.
Camping in Venday Montalivet France in the Aquitaine (Atlantic Coast)
To be sure you get the best options look for these affiliations:
Camping de Qualite is a designation given to those places that offer a high standard of cleanliness, service and privacy.
Le Clef Vert (the green key) is an ecolabel for tourist facilities that conform to a high standard of environmental friendliness.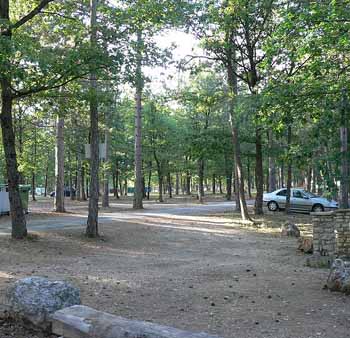 Camping in Sault France in Provence
Camping Sauvage (rough) - Camping Tent France
Lots of stars - in the sky.
You camp on someone's land. You must ask permission first or else you might be chased off unpleasantly i.e. with dog or gun. Some spots are so pristine, and it's common practice so don't be afraid to ask but do ask first.
Gildas (my husband) remembers as a kid at camp in Brittany they spent a night in a big tent on some farmer's land. Even the same kind of tent like that episode in "The Darling Buds of May" when the Girl Guides did the same thing(only in England of course).
Please Note, camping in France on public land is officially off limits. However, it is widely practiced. My advice is if you are not French it is best is to be a good guest and obey their laws.
For a good camping guide France try "Michelin Camping France". It provides detailed info and is updated every year.
Planning to do a lot of camping? You might want to get the CCI (International Camping Carnet) card. You get 10% discount at listed campsites in the booklet provided with membership, an ID card and 3rd party insurance coverage.
Camping in France is definitely a fabulous choice with or without kids with levels of choices to please us all.

While You're Camping in France
Things to Do in France and Places to Visit in France
Camping in Brittany in your own camping car?
Try this detailed self guided Brittany caravan holidays motor tour.
A French beach is considered the best in France. Check out this guide to discover which you'd like to explore.
The French wine regions are great to explore.
Driving in France is important if you'll be camping in France in the countryside.
A road map France will help you find your French camp sites. Here is a guide to choosing the best one for your needs from my husband the map expert.
France food is amazing. Here is a guide for when you eat out.


Return from Camping in France to French Culture Adventures


Photos ©Creative Commons
Copyright ©2022 by Deborah Dutton, French-Culture-Adventures.com
All rights reserved