Things to Do in France
9 Great Outdoor Activities

When it comes to outdoor adventures there is a whole array of things to do in France. The Gorges du Verdon is amazing for adventurous outdoor sports. The South of France abounds with water sports, and Brittany is a haven for sailors. Below are suggestions of a variety of fun activities and where to find them.
Fly fishing in France
For the fisherman or woman, fly fishing in France is very satisfying with fantastic streams and rivers to any fisherman's delight.
I have discovered two expert websites devoted to the subject that you should check out:
A non-commercial site from a Stanford University physician with a French wife who often goes Fly fishing in France. He offers personal suggestions of great spots he's fished and where to find guides in the Ardeche and Alps Maritime areas of France. Check out his suggestions

An outfitter and guide, Gourmetfly is a French company offering a choice of services. For a fee they will guide you, or send you on your own with a written guide. The website offers great photos and suggestions of places to go.
Things to do in France
Sailing in France
Brittany
Brittany France is one of the best places for sailing. Below are two well loved options.
Club Nautique du Rohu
70 Route du Rohu, 56730 St Gildas de Rhuys
33 02 97 45 37 05
Club Nautique du Rohu offers rental or lessons in windsurfing, funboat, multihull, racing keel-boat J80 or kayaking.
More info and places to stay nearyby

Trimaran "Defi Cancale"
Rue de Port-Briac, Port Briac 35260 Cancale
33 06 13 06 17 20
Sail with a skipper on a 60 foot racing boat.
Check reviews and more info
Rhone Alps
A nice day Boat Cruise with the family is on Lac du Bourget
Live and travel on a boat with a French River Cruise.

Things to do in France
Canoeing and Kayaking France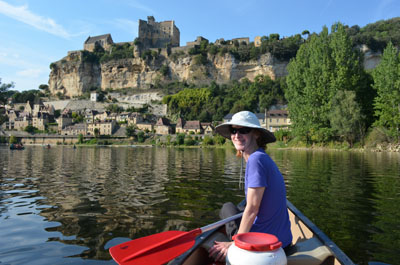 Canoeing on the Dordogne was loads of fun
One of the most popular things to do in France during the warm weather. In the south of France alone there are 14 navigate able rivers and very popular area for other water sports.
The South of France
Languedoc Roussillon Region:

Kayak or canoe down the Gardon River. This is where the famous ancient bridge Point du Gard is. See it from the water as you paddle down the river. Below are two outfitters that will assist you.

Naturando
1 av Geoffroy Perret 30 320 Bezouce
33 06 67 11 49 19
Check reviews and more info

Canoe France
SARL 3V
8, chemin Saint Vincent - 30210 Collias
33 04 66 22 80 76
Canoe France offers boat rentals and return transportation for the Gardon River. They get great reviews.

Canoe le Moulin
D986 - St Bauzille de Putois, Montpellier
33 (0)4 67 73 30 73
Between Montpellier and Nimes, you can access the Herault River with this well reviewed outfitter.
Check reviews and more info

Perigord Region (Dordogne):

Canoe Loisirs
16, Residence Vigneras 24200 Sarlat-la-Caneda
33 05 53 28 23 43
Check review and more info

Rivers of France is a group of kayak and canoe rental companies in Southern France committed to quality. Their website offers options on many rivers of the South of France with a different outfitter for each. The site has an English language version and is easy to use.
Scuba Diving France Instruction and Guides
Provence
Scuba diving in the Mediterranean
Scuba Diving Marseille:
Plongee Phoceenne
17 bld Marius Thomas 13007 Marseille
33 06 22 45 06 83
Plongee Phoceenne in Marseille offers instruction and certification. Gets very good reviews.
Check reviews and find hotels nearby

Sudplongee
Place Magellan
Résidence la Réale 66700 Argeles-sur-Mer
33 06 16 27 25 72
Near the coast of Spain
Check reviews

Archipel Plongee
8 Residence, les villegiales du quai d'honneur, 66700 Argeles-sur-Mer
33 04 68 95 7103
Check reviews
Things to do in France on Land

Golf
You can take a week long French golf holiday or just play for a day.  France has many award winning top notch courses.  Golf is a popular sport.
In the south of France there are courses with fabulous views of the Mediterranean, and in the Loire you can play next to a castle.  You can even play golf just outside of Paris.

Rock Climbing France
Provence
Gorges du Verdun
This area in one of the famous places in France for its dramatic natural beauty. The gorges is as deep as 2,297 ft (700m) in some places. Besides Rock Climbing this area offers so much outdoor adventure activities. You might want to also check out White-water Rafting, Bungee jumping, Mountain biking, canoeing, walking and hilltop villages too.
Find the best deal, compare prices, and read what other travelers have to say

The Calanques (outside of Marseille)
Things to do in France
Paragliding in France
Chamonix in the Rhone Alps region is a spectacular area for paragliding. Here are two popular paragliding outfits:
Things to do in France
Hiking in France
There are many beautiful areas to hike in France. Below are some of the national parks and nature areas ideally suited to hiking.
Horseback Riding in France
Normandy

The beautiful wide sandy Normandy beaches are great for horsebacking riding and inland as well.
The Camargue

A beautiful natural wildlife area that goes down to the Mediterranean. This area is famous for its horses and natural beauty.
Horseback riding, Hiking, Camping, and Bird Watching are available.
Check reviews and more info

Camping in France
Where to Stay

Camping in France is great for everyone, especially families. Very organized with camping resorts where you stay in a cabin with swimming pools and entertainment or camp rough (sauvage) on a beach or field. Check out the details for Camping in France ,
Camping Brittany is a delightful experience. You can camp right on the beach or stay at one of the attractive camping resorts. Brittany is very rural and dotted with old villages.
See camping Brittany for our family favorites.

Camping Yelloh Village
Prad Poullou 29950 Clohars-Fouesnant
02 98 57 02 38
Very well reviewed this place is in the Finistere which is right out on the furthest point of Brittany France with beautiful seascaped beauty.
Check reviews and more info
Helpful Articles

Tour de France history.  Biking is a very popular sport and the tour de France is world famous.  You can watch the race from the side of the road.  You can also bike in France on your own.

Return from Things to do in France to French Culture Adventures
Copyright ©2022 by Deborah Dutton, French-Culture-Adventures.com
All rights reserved