Festivals in France

Festivals in France are great places to sample French culture in many forms: music, art, theatre, religious pageantry and food. Everybody comes out to enjoy the fun.
The festivities start up full force in Spring.  The weather becomes warmer and people go outside.  July and August are the busiest months.



Some Festivals in France happen all over the country.  Others are specific to the region and its culture.
Bastille Day traditions, a national holiday brings celebrations across France with fireworks, parades and fun for all.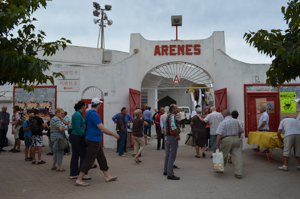 Festivals in the south of France celebrate bullfighting season. This type of bullfighting is not bloody for the bull and hopefully not  bloody for the matador.  One of the matador's challenge is to jump over the horns of the charging bull! 

All across the country Autumn brings the harvest festivals, and Christmas in France is celebrated with pageants and holiday markets that characterize the regional heritage.  For example the most elaborate and beautiful Christmas decorations are in Alsace and reflect its Germanic influence.
Festivals in France Countrywide

The festivals listed below are held all over France or in several regions.
May
Fête de la TransHumance (end May) Herds of animals are taken up to graze in summer pastures.

June

Fête de la Musique (June 21)
Celebrating World Music Day with free and paid music events and concerts
http://www.fetedelamusique.culture.fr


Fête de St-Jean (June 24)
Music, bonfires and fireworks celebrating the passing of the summer solstice and the feast of Saint John (Jean) the Baptist


September
Festivals in France by Region

April
Floréal Musical d'Epinal, Vosges Region, Multi genre music festival
May
Floréal Musical d'Epinal (through mid May), Vosges Region
Multi genre music festival
June/July
Strasbourg International Music Festival
Aquitaine & Poitou
January
Festival de la Bande Dessinée (last weekend Jan), Angoulême, Poitou
International strip cartoon festival
July
Francofolies (mid July), La Rochelle
Music festival
Mont-de Marsan Feria (3rd weekend July)
Bullfights and music
August
Mimos (1st week Aug), Périgueux, Dordogne
World famous international mime festival
Feria-Bullfight (mid Aug), Dax

July
Tombées de la Nuit (first week July) Rennes
Arts festival

Troménie (2nd Sun July), Locronan
Procession of penitents
October

Dinard British film Festival (1st week Oct)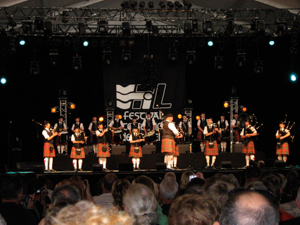 August

Interceltic Festival (2nd week Aug) Lorient


Malguénac Jazz Festival (end Aug)
World renowned jazz artists perform in beautiful rural setting. Indoor and outdoor performances.
Burgundy
November

Dijon International Food and Wine Festival (1st 2 weeks Nov)
Traditional food festival


Wine Auctions and Les Trois Glorieuses (3rd weekend) Beaune
Champagne-Ardeche

March

Tinta' Mars (2 weeks March), Langres
evening cabaret and music festival
Languedoc-Roussillon
January
Limoux Carnaval (through Mar) weekends
Street festival held since the middle ages.
July
Pablo Casals Festival (end July – mid Aug) Prades
Music
August
Pablo Casals Festival (continues through mid Aug) Prades
Music
Fête de St-Louis (around Aug 25) Sete
December
Limoux Carnaval (Dec – Mar)  weekends
Street festival held since the middle ages.
Loire
April/May

Bourges Spring Festival (end April – early May)
Modern music festival


Europa Jazz Festival (April), Le Mans
Jazz musicians from all around the world


Joan of Arc Festival (end April – early May), Orleans
Pageant and cathedral service


Asparagus harvest (May), mostly in the Loire


International Garden Festival (mid May – mid Oct), Chaumont sur Loire
http://www.domaine-chaumont.fr


Puys-du-Fou Pageant (May-Sept)
Audio-guides and horse stunts evoke local life through the ages.


Le Printemps des Arts (mid May – June) Nantes area
Baroque dance and music


August
Foire aux Sorciers (1st Sunday Aug), Bué (near Bourges)
Costumed witch and wizard festival and folk groups
Les Rendezvous de l'Endre (last weekend Aug), Nantes
Jazz and riverboats
October
Abbey de Fontevraus Music Festival (Oct – Spring)
International Garden Festival (mid May – mid Oct), Chaumont sur Loire 
Massif Central
September

Le Puy "Roi de l'Oiseau" (2nd week Sept)
Renaissance festival
March/April

Festival de Pâques (Easter week April/March) Deauville
Chamber music festival
September

Deauville American Film Festival (1st 2 weeks Sept)
November

Apple Festival (mid Nov), Le Havre
Paris & Vicinity
March

Banlieues Blues Jazz Festival, St. Denis, N Paris suburbs
April

Grandes Eaux Musicales (April – Oct), Versailles
Classical music in the grounds of the chateau.
June

Gay Pride March (June 23), Paris
July
Grandes Eaux Musicales (continues through Oct), Versailles
Classical music in the grounds of the chateau
Paris Plage (mid Jul – mid Aug)
Paris and other cities ship in sand for a temporary beach
September
Grandes Eaux Musicales (Sept - Oct), Versailles
Classical music in the grounds of the chateau
February

Paris Carnaval (various dates pre Lent), Quartier St-Fargeau, Paris
Picardy
September

Picardy Cathedral Festival (mid-Sept)
Classical concerts in the region's cathedrals
Provence
March/April

Feria Pascale (Easter week March/April) Arles
Town parties celebrating the beginning of the bull fighting season

May

Gypsy Pilgrimage (late May), Stes-Maries-de-la-Mer


Nîmes Feria (Pentacost) (May) bullfights and street music festival

June

Tarasque Festival (last weekend June) Tarascon
An effigy of the Tarasque (half-animal half-witch) which by legend the town is named after, is paraded through the streets.


Festival d'Art Lyrique (Jun-Jul), Aix-en-Provence

July

Avignon Theatre Festival (month of July)


Nice Jazz Festival (late Jul)


August

Fête de la Véraison (1st or 2nd weekend Aug), Châteauneuf-du-Pape.  Medieval celebration of thanksgiving for the bounty of the fruit harvest.
November
Truffle Season (Nov – March), Périgord, Quercy and Provence
Pyrénées
March/April

Lourdes Pilgrimage (Palm Sunday – October)
July/August
Comminges Music Festival (Jul – end Aug)

St-Jean-Pied-de-Port-Basques- Fête (mid Aug)

October
Espelette Red Pepper Festival (last weekend Oct), Basque region
Rhône-Alps
March
Grenoble Jazz Festival (2 weeks March)

July
Jazz Vienne (1st 2 weeks July), Vienne

September
"Musicades" (1st 2 weeks Sept), Lyon
classical music concert
December
Criterium International de la Première Neige (early Dec), Val d'Isère
First competition of the season
January
Festival du Cirque (end Jan), Monaco
International Circus Festival with circus acts from around the world. Ok, not France but definitely the Riviera and it looks like so much fun.
February/March
Lemon Festival (mid Feb – Mar), Menton
Fête de Mimosa (3rd Sun Feb), Bormes-les-Mimosas
Nice Carnival and the Battle of Flowers (late Feb – early Mar)
http://www.nicecarnaval.com
May
La Bavade (May), St Tropez
Cannes Film Festival (2nd and 3rd week May)
July

International Jazz Festival (2nd half July), Antibes and Juan-les-Pins

August
Fête du Jasmin (1st weekend Aug), Grasse
Floats, music, dancing in town

Parade of Lavender Floats (1st or 2nd weekend Aug), Digne

I hope this list helps you find the festivals in France that suit your interest so you can attend and have a fun time.

Return from Festivals in France to French Culture Adventures

Copyright ©2022 by Deborah Dutton, French-Culture-Adventures.com
All rights reserved