Navarin Printanier
French Lamb Stew
For Traditional French Food at Home
Navarin Printanier is a basic French Lamb stew.  It's called "Printanier" (spring in French) because traditionally it's cooked in the spring when vegetables are young and tender.  But you can make it any time of the year.  I made it in October. With Autumn in the air we usually feel like a nice warm pot of food.

To make this traditional lamb stew you don't have to be a master chef.  These steps should help you make it easy.

Serving traditional French food at home can make a dinner party extra special or a family meal a cultural adventure. Anytime is a good time for French stew.
One pot meals are one of the popular French foods prepared in French households.  Navarin Printanier can be made a day ahead.  It taste even better the next day because the flavors have had more time to meld.

Navarin Printanier
French Lamb Stew Recipe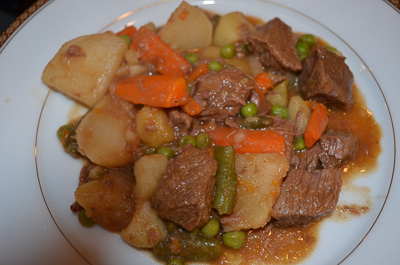 Prep time:  60 - 90 minutes

Cooking time: about 2 hours

Serves: 6

Ingredients:
3 lbs. lamb stew meat

2 - 4 Tbsp cooking oil
10 - 12 inch skillet
Covered casserole large enough to hold all the ingredients
1 tsp salt
1/4 tsp pepper
3 Tbsp flour
2 - 3 cups beef stock
3 Tbsp tomato paste
2 cloves garlic (smashed)
1/4 tsp rosemary

1 bay leaf
6 - 12 peeled potatoes
6 peeled carrots
6 peeled turnips
12 - 18 pearl onions peeled Cut an x in the root end 
1 cup frozen green peas
1 cup frozen green beans cut into 1/2 inch pieces
Navarin Printanier
French Lamb Stew Recipe step by step guide:
1. In the skillet heat the oil. In batches, sear the meat.  Make sure the lamb is dry or it won't brown.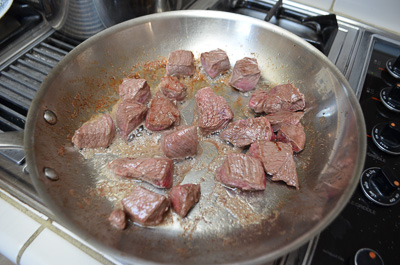 2. Add the seared lamb to the casserole.  Toss the meat with salt, pepper and flour.

3. Simmer covered for 4 minutes, then toss the meat and simmer another 4 minutes.

4. If your lamb is fatty pour off the fat.  I had very little so I skipped this step.

5. Add 2 cups beef stock to the saute pan.  Bring to a boil and then scrape up the saute juices left on the pan.
6. Pour the liquid into the casserole.  Stir to mix.

7. Add tomato paste, garlic, rosemary and bay leaf.  Stir to mix.
8. Simmer for 1 minute.  The liquid should almost cover the meat.  Add more if necessary.
9. Put the lid on the casserole and simmer for 1 hour.
10. Skim off the fat if you find it fatty.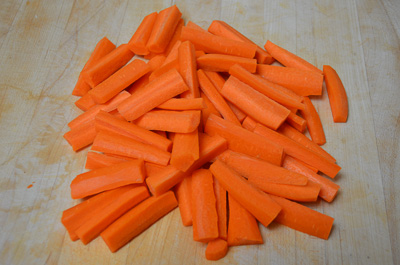 cut carrots, potatoes and turnips into quarters then approx. 1.5 inches long
11. Add the potatoes, carrots, turnips, and onions. Make sure they are mixed in towards the bottom. Simmer slowly for 1 hour or until lamb and vegetables are tender.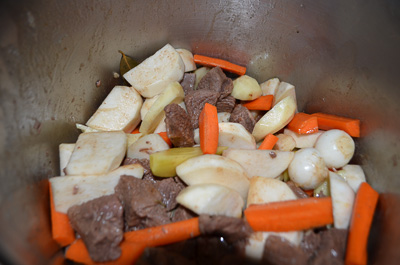 12. 5 - 10 minutes before serving add the frozen vegetables.  Bring to a simmer.
13.  Serve!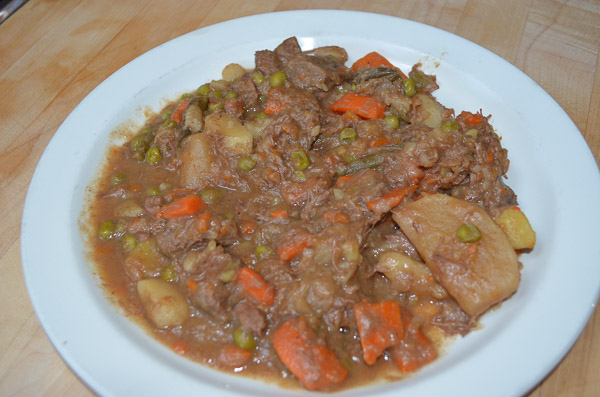 Return from Navarin Printanier to French Culture Adventures
Copyright ©2022 by Deborah Dutton, French-Culture-Adventures.com
All rights reserved