Best Shopping in Paris
Food Shops
Parisian Secret Haunts

The best shopping in Paris is found when you get the inside scoop from a native. A friend who is from Paris let me in on her most cherished food shop secrets, where the discerning Parisians goes.




Not only food, shopping in Paris offers a fabulous experience and I like to get an overview of the best of the best so I can keep my focus and not get tired. And secondly my Parisian niece took me clothes shopping.


First, the stomach -

Best Shopping in Paris Food Shops
BREAD
15e (15th arrondissement)

Poilâne

Poilâne - Grenelle bakery
49 bld de Grenelle
Tel +33 (0) 1 45 79 11 49
Opening hours :
From tuesday to sunday, 7:15 am to 8:15 pm
There are two locations in Paris, this one is the best.
There are long lines on weekends and at 4pm when the bread comes out of the oven.


6e
Poilâne - Paris - Cherche-Midi bakery
8 rue du Cherche-Midi
Tel 01 45 48 42 59
Opening hours :
From monday to saturday, 7:15 am to 8:15 pm


---
Best Shopping in Paris -
CHEESE – Top 3
7e
Fromagerie Barthelemy (Ste)
Very small, well known among connoisseurs
51 rue de Grenelle, 75007 Paris
phone: 01-42-22-82-24, 01-45-48-56-75
hours: 7am-1pm and 3:30pm-7:30pm, closed Sundays and Mondays.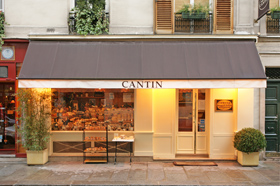 7e
Marie-Anne Cantin
Won several awards. Presidential palace gets cheese from her as well as renowned restaurants.
12, rue du Champ-de-Mars, 75007 Paris.
Phone: 01-45-50-43-94
Hours: 8:30am – 7:30pm; closed Sundays


17e
Fromagerie Alleousse
One of the top cheese shops in Paris
13, rue Poncelet, 75017 Paris
phone: 01-46-22-50-45
hours: 9am-1pm and 4-7pm; Fri & Sat 9am-7pm; closed Sunday afternoons and Mondays


---
CHOCOLATE
8e
La Maison du Chocolat
"My favorite! Very famous!!
Their champagne truffles are so good and so are their natural cocoa powdered ones. They have a few locations." The one near the Champs-Elysee is nice.
52 rue François 1er
75008 Paris
Opening hours:
Monday to Saturday from 10am to 7.30pm (Closed on Sunday)
Metro: Franklin D. Roosevelt


---
Best shopping in Paris -
MACROONS

Dalloyau
Famous for macaroons. Many locations.
8e
Dalloyau Faubourg St Honoré
101, rue du Faubourg-Saint-Honoré,
75008 Paris
Metro : Saint-Philippe du Roule, Miromesnil, Franklin Roosevelt
Shop : open every day from 8.30am to 9pm
Tea room : weekdays 8.30am to 7.30pm, weekends 9am to 7.00pm


7e
Dalloyau Raspail
63, rue de Grenelle
75007 Paris
Shop : every day from 9am to 8pm
Parking : Bac Montalembert
Metro : Rue du Bac, Sèvres Babylone


6e
Dalloyau Luxembourg
2, place Edmond-Rostand
75006 Paris
Shop : every day from 9am to 8.30pm
Tea room and terrace :
every day from 9am to 7.30pm
Parking : Soufflot
Metro : Luxembourg, Cluny La Sorbonne, Odéon, Saint-Michel


9e
Dalloyau Lafayette Gourmet
48-52, Bd Haussmann
75009 Paris
Shop : from Monday to Saturday from 8.30am to 9.30pm
Parking : GTM Galeries Lafayette
Metro : Havre-Caumartin, Chaussée d'Antin, Auber


---
FASHION

Etam
5e
9 bd. St-Michel
01-43-54-79-20
Metro: St-Michel


My Parisian niece Megan took me to Etam where I bought a very chic outfit. She helped me pick stuff out and we had a great time.
Etam is a chain and very reasonably priced. I wish there was one in the States. The price reflects the quality. Not high quality but very nice looking. I was thrilled and felt Parisian.


Return from Best Shopping in Paris to French Culture Adventures
Copyright ©2022 by Deborah Dutton, French-Culture-Adventures.com
All rights reserved