The Camargue, Montpellier and Beaucaire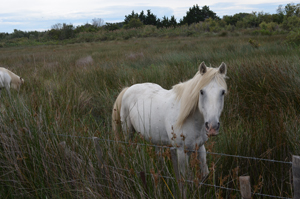 A Camargue Horse
Day 4, September 11

Departed lovely Collioure en route to the Camargue. An easy drive along the A9 (the toll highway) with the sea to our right, past all the French beaches on this end of the Mediterranean.

At lunchtime having bought a bag of vittles the day before we searched for a picnic spot. I had the "bonne idée" to eat on the beach at La Grand Motte, a popular upscale resort town. It was overcast but still warm. Hardly anyone on this beautiful wide fine sandy beach. I understand it's quite crowded in Summer. We plunked our bottoms down on the sand and ate rillettes de thon (tuna). So delicious, why don't they make this in our country?

Next stop the Camargue. The Camargue is a protected area of wetlands, pastures, dunes and salt flats created by the Rhone river delta. We saw white horses and flamingos this area is famous for. At the end of our road is the town of Stes-Maries-de-la-Mer. Full of people, small hotels, restaurants and a bull fighting arena! Fun active holiday town surrounded by sand and sea. Bull fighting is part of the Provençal tradition where the bull is not killed. There was one to start in an hour and the people were already getting their seats. A social event.

Next stop back the way we came to Montpellier to see our niece Megan. She lives in a suburb so we took the tram to the center of town. Montpellier is a big university town, the center for hi tech in France and very prosperous. We toured the city a bit on foot and had a nice meal at a café on the main town square.

By the time we said goodbye to Megan it was dark. We drove to Beaucaire and our B&B, Mas Guiraud. Beaucaire is half way between Arles and Avignon. The owner not having a lighted sign, and the house being on a dark farm road, put his car at the entrance to the driveway with the flashers on so we could find the place at now 10:30 pm.

We took on a bit too much today but I'm glad we saw all that we saw. This B&B is stunning and we're in for a good sleep.

Join in and write your own page! It's easy to do. How? Simply click here to return to Our Travels in Southern France Bog.
Copyright ©2023 by Deborah Dutton, French-Culture-Adventures.com
All rights reserved