St. Pierre et Miquelon
by John J. Kriz
(Connecticut)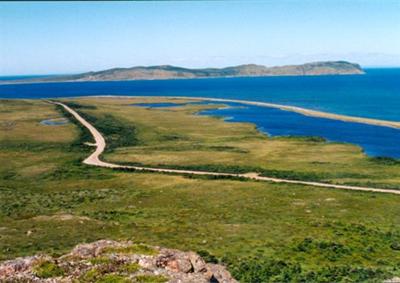 Miquelon
Do not be surprised if you've never heard of these bits of France -- unless you're a yachtsman or philatelist, almost no one has! These are the main islands that comprise the last parts of France in North America. France? North America? Yes, indeed. They're just off the southeast coast of Newfoundland, and when France lost to the British at the Battle of the Plains of Abraham in what is now Quebec City in 1759, France ceded its dominions in North America to Britain. So...Quebec goes to Britain, but little St. Pierre et Miquelon remained French.

With around 7000 souls, these fishing villages sustain themselves on tourism, some deep-sea fishing and fish-farming (the commercial fishing industry has essentially collapsed due to overfishing) ship repair and provisions, and huge subsidies from Paris. During American Prohibition, rum-running was active. The roads are good, the airport is sparkling and French Officialdom is flourishing.

I was there for a few summer days with my not-very-rugged traveling companion, seeing most of what is there to see. The town of St. Pierre is the hub, with around 6000+ people. I can vouch that French gastronomy is in abundance, with much local seafood and greenhouse-grown vegetables -- and French Wine. Plus...it's cheap! (Bless those subsidies!) Now, do not expect fancy restaurants. While not at the end of the world, you can see it from there, so things can get a bit rustic, but SPM (as it's called) is friendly and tidy, and the quality of the food is wonderful. SPM is the sort of place where the owner's family are the cooks and waitstaff, and they'll sit down with you for a cognac.

What to see: There are a few museums, but SPM is mostly for hikers and birdwatchers. We took a large Zodiac out from St. Pierre to sea one day for a tour of some of the smaller islands that are havens for seabirds and seals (lots of both), and went on to neighboring Miquelon and Langlade (also called Petit Miquelon). Langlade has no permanent population anymore, the houses now being used as summer cottages by people on St. Pierre, who treat it as New Yorkers treat the Hamptons. You walk along the beach, chat with people fussing in their gardens -- we even ran into the immigration officer who stamped our passports at the airport. "C'mon in. Have some wine." After taking in all that Langlade had to offer, we rode a small bus north towards the village of Miquelon, passing by windswept moors, wild horses and even a few struggling farms. Miquelon as a village seems to be folding in on itself, with little, if any, employment outside of Government or utilities, but there's a town square (hey, it's France) with a church that does not see much business anymore. Just off the square is a pretty little museum that's run by some nice old ladies, telling the tales of brave Miquelon fisherman and their braver wives, and even a small tourist shop nearby that's run by a woman from Madagascar (go figure), where we bought a jar of homemade cloudberry jelly.

This being SPM, weather is changeable, so by the time we got back to Langlade for the return trip to St. Pierre, the weather had turned rough (as in Rough) and we could not use the dock. What to do? We kicked it old school, and the Zodiac beached itself in a somewhat-protected cove 1km away, where we and our fellow travellers waded through some surf and kelp to get on board for the choppy and wet passage back.

Also be sure to visit Ile aux Marins, a mere 10 minute boat ride (on a real boat) from St Pierre. This used to be its own village, but the collapse of the fisheries, and its isolation, ended its permanent population, and now it is also a place for second homes -- thankfully with no cars. There never were any. A visit to this little island is like visiting a lost civilization. You see the fields of rocks where cod were dried, the winches that hauled the now-extinct boats ashore, the crumbling lighthouse, a huge shipwrecked hulk, some cannons from an old fort still keeping watch, plus a pretty, well-organized museum and a massive church built by shipwrights (and it looks it) that is kept in relatively good repair by the hardy souls of SPM. Walking around, you can hear the spirits of the past crying out to you through the ever-present wind.

But perhaps my fondest memory of SPM is La Butte, a little cafe near the war memorial on the edge of town on St. Pierre, where my travelling companion and I sought refuge from the wind and rain that are so common. We entered the cafe with guarded hopes that were quickly dispelled. Looking like it's straight out of a postcard, the cafe also sells local art, and is a pottery as well (and a good one). Verily, the Travel Gods were with us, as we managed to find a seat (along with a nice salad, some ham, a bit of cheese, half a baguette and a glass each of Lillet, that fast become several) just in time for a singer who, with her pianist, belted out Edith Piaf songs. My traveling companion soon made friends with some other young women at the adjoining table who were from Montreal, and were pleased to speak French with the tall American fellow (me) and the English girl (my travelling companion), and share adventure tales. France. Cafe. Food. Wine. Art. More wine. Pretty girls. Piano music. Edith Piaf songs. Hey, life is good.