Climate in Paris France

Best Time to Visit
The climate in Paris France is temperate. Which means not as hot as a tropical climate and not as cold as a polar climate but somewhere in the middle.
The France weather forecast (and all of Europe) uses the Celsius scale. For a rough conversion from Celsius to Fahrenheit double the number than add 30.
The coldest month is January. The hottest month is July.
Climate in Paris France

When to Go

Winter
December January February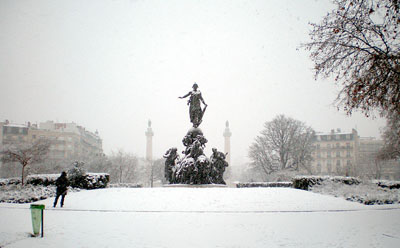 Paris in the snow, Place de la Nation ©creative commons
The weather in Paris France is cold in winter. The yearly snowfall in France sometimes covers Paris. It makes Paris into another kind of beauty.
Paris at Christmas in the snow or not makes for a beautiful winter wonderland. Outdoor Christmas markets, lights, and music in the churches.
Be sure to pack your warm coat, cloves, scarf, hat and boots.
The sales start up after Christmas where you can get a "bargain" on designer clothes. Retail Sale dates are regulated by the government.
Paris Weather

Spring

March April May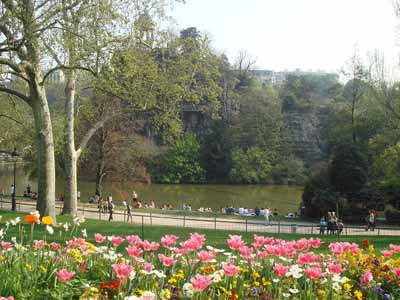 Springtime, Parc Buttes Chaumont in Paris
The forecast for Paris France in Spring marks the beginning of warmer weather.
A great time to visit and popular for tourists.
You can enjoy the outdoors, parks in Paris and eating at a sidewalk café.
Easter in France offers outdoor processions, church services with great music and much more.
Paris Weather

Summer

June July August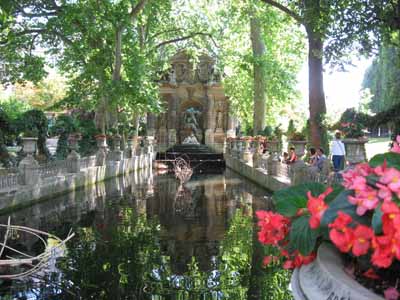 August in Paris, Jardin du Luxembourg, Fountaine de Medicis
We were there in August and it was HOT and humid. Make sure your hotel has AC as some of the more quaint older hotels do not. Of course if you don't mind sleeping in the heat then that's ok.
We took the Bateau Mouche tour which takes you on the Seine for a tour of the city. Which I highly recommend. I brought my sweater thinking it would get breezy on the water and I'd need it. I did not, it was just as hot.
But really who cares how hot it is you're on vacation if you dress accordingly you'll be all right.
From August until early September Parisians leave the city for their holidays. The south of France and Brittany are the most popular destinations.
As a result some restaurants and businesses are closed in August.
Climate in Paris France

Autumn

September October November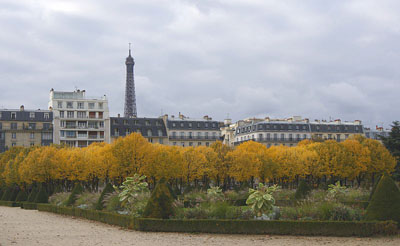 Paris Autumn colors, Blvd de La Toure Maubourg Invalides
We always go in September. Less tourists, the city is alive with the start of the new season and all the Parisians are back to work.
I prefer to visit a place when the locals are there so I can pretend to be a part of the city and not just a tourist among tourists.
Current Weather Forecast for Paris



Weather Forecast | Weather Maps | Weather Radar | Hurricane Center
Helpful Paris Facts articles:
The Louvre Paris France


A tourist map Paris with the tops sites indicated


Visiting Paris you'll want to know about:

The best shopping in Paris

An overview of Paris boutique hotels

An overview of Paris budget hotels


Return from Climate in Paris France to French Culture Adventures