Easy Chocolate Mousse Recipe
Quick and Easy Dessert

My cousin Isabelle in Brittany France shared this easy chocolate mousse recipe with me. Chocolate mousse is one of those Traditional French Foods that is a staple dessert on French menus for French chocolate desserts.
Later I find out another cousin, Marie-Paule also in Brittany France makes her chocolate mousse the same way, using no cream. They like it better because it is less rich. And, it is absolutely delicious. This must be why French women keep their figure so beautifully.
One of the most famous French desserts, this easy chocolate mousse recipe is one of the most easy French desserts to prepare.
Naturally Low in fat and low in sugar (the only sugar is in the dark chocolate bar) gluten free and dairy free. It is one of those quick easy dessert recipes that make you look like a fancy French chef.
The most important factor in preparation of this recipe for chocolate mousse is that your egg whites need to be beaten so they are smooth and stiff and that there are no lumps in the melted chocolate.
---
Isabelle's chocolate mousse
---
Easy Chocolate Mousse Recipe (Mousse au Chocolat)
Prep time: 20 minutes
Cooking time: 2 minutes
Serves 8-10
Ingredients:
She used 52% chocolate
200 grams dark chocolate bar (52% dark or more depending on your taste)
6 egg whites
6 egg yolks
3 Tbsp water
---
Easy Chocolate Mousse Recipe step by step guide
1. Break the chocolate bar into squares and put into a microwaveable pan.
2. Add 3 Tbsp water.
3. Melt in the microwave 2-3 minutes or less. Make sure it's melted with no lumps. Set aside to cool.
Egg Yokes

4. Add the egg yolks to melted chocolate. Careful not to curdle the eggs.
Egg Whites

5. Add a pinch of salt to the egg whites. Beat until they form a peak.
Mousse

6. Fold egg whites into the chocolate mixture using the side of the spatula to fold in delicately. The melted chocolate must be completely cool or it will deflate your egg whites and you'll be left with chocolate pudding.
This easy chocolate mousse recipe can be prepared and served in the same bowl or spooned into individual ramekins.
7. Place in refrigerator for one day or just overnight. Isabelle made it the night before and we had it at lunch the next day.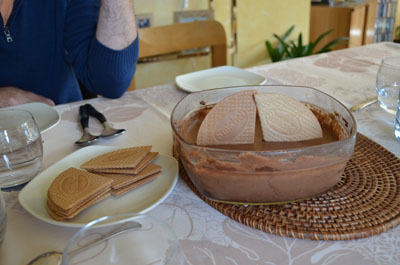 Serve with light wafer cookies for an added touch
---
There are many delicious famous French desserts. Check out my quick easy dessert recipes: French dessert recipes.
Ok we can't just eat famous French desserts… Check out the wonderful France food just waiting to be added to your French food at home repertoire.
---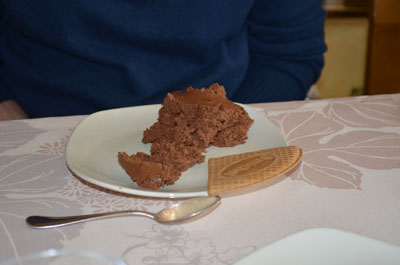 delicious dark chocolate mousse
Food articles:

Are French menus confusing? A guide to France food restaurant menus for eating out in France with confidence.


Hosting a dinner party? Try these easy French recipes for your party.

Food is one of many important aspects of the culture of France.


Having a romantic dinner party?What a great occasion to try out some of these French love phrases.


Will you be eating a famous French dessert in Paris?

Why not shop first to get an appetite... the best shopping in Paris guide for you.

Where to stay in Paris:
An overview of Paris boutique hotels


An overview of Paris budget hotels


Return from Easy Chocolate Mousse Recipe to French Culture Adventures
Copyright ©2022 by Deborah Dutton, French-Culture-Adventures.com
All rights reserved