Best Beaches in France
The English Channel
Beaches in France on the English Channel are in the regions of Brittany and Normandy.




The best beaches for swimming and water sports are in Brittany France which is renowned for its beautiful coast.
The Pink Granite Coast of Brittany France
For holiday goers it offers fabulous French beaches, great surfing, diving, sand yachting, and one of the best places in the world for sailing! And it has a unique French culture because it is Celtic.
Best beaches in Normandy are historical and famous places in France to visit with beautiful views.

When choosing a French Beach you've got your choice of 3 bodies of water:

The English Channel: Beaches in Brittany (north coast) and Beaches in Normandy

The Atlantic : France beaches along the coasts of the provinces of Brittany(southern coast) and Languodic-Roussilin.

The Western Mediterranean: French beaches West of the Rhône.

East on the Mediterranean : chic French Riviera Beaches


---
Best Beaches in France - Pink Granite Coast:
Beautiful shoreline of pink granite rocks alongside sandy beaches.
Favorite beaches:
Roscoff: Laber beach
W of Roscoff: Plouescat
Ile de Batz: 20 sandy beaches. A favorite is Grève Biache - long sandy beaches popular for families.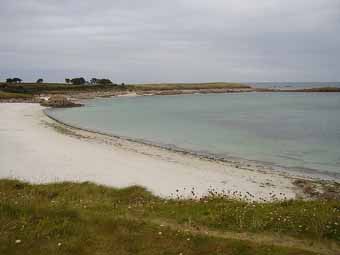 Ile de Batz
Carantec: great walking paths, beautiful views, wide sandy beach.
Carantec
Beaches in France between Perros Guirec and Trébeurden are offer some of the best beaches in Brittany:
Trestraou in Perros Guirec, and Trestingel are wide and sandy.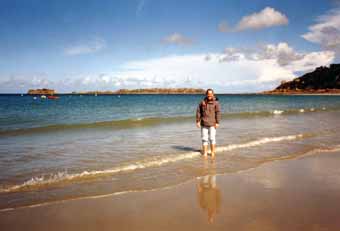 Perros Guirec beach in September
Beg Léguer (near Lannion & Trébeurden)
Trébeurden (several beautiful beaches)
Ile Milau, Trébeurden ©Ludovic Rivallain
St Quay Portrieux: beautiful beaches
Le Dossen (great for surfing)
Best Beaches in France- Emerald Coast
The water here is a beautiful emerald green with beautiful sandy France beaches flanked by jagged cliffs.
Cap Frehel: great for surfing. Beautiful lighthouse on the point.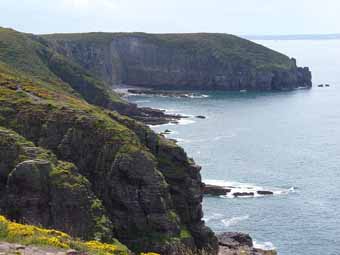 Cap Frehel ©Steffen Heilfort
Dinard (opposite St. Malo France)
Plage de l'Ecluse in Dinard ©lavilleautady
Dinard is the wealthy center of this coastal resort area. It started in popularity around the 1850s and still popular today because of its wonderful beaches and beautiful water.
Some favorite beaches: Plage d l'Ecluse (near the casino), Plage du Prieure, and Plage de St Egonat.

You might also want to check out these favorite beaches French resorts west of Dinard and St. Malo France:
St Cast le Guildo: long flat beach.


Erquy
Erquy - Plage du Val Andre
There are lots of places to stay along the coast, numerous Brittany vacation rentals, hotels, and B&Bs.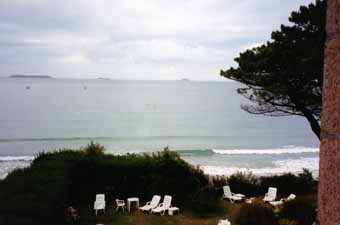 View from our hotel room in Perros Guirec
Want to rent a Brittany cottage or villa? Here is a self catering France guide to get you started.

Try camping in Brittany on or near the beach. 5 star French campgrounds are like resorts or try camping in France in tent under the stars.

What to Eat? France food in Brittany is famous for seafood and crepes. Here is a great guide to make ordering easier.

Driving in France gives you the opportunity to see and do many things. A guide for your driving experience.

Flying to France? Airports in France that serve Brittany.


Return from Beaches in France to French Culture Adventures
Copyright ©2023 by Deborah Dutton, French-Culture-Adventures.com
All rights reserved