French Beaches In Normandy
Beaches in Normandy are beautiful, pack a wallop of French culture and world history plus offer long sandy French beaches and resorts for summer vacations.




Beaches in Normandy cover three areas of interest:
D Day Normandy invasion beaches
Summer vacation French beaches
Mont St. Michel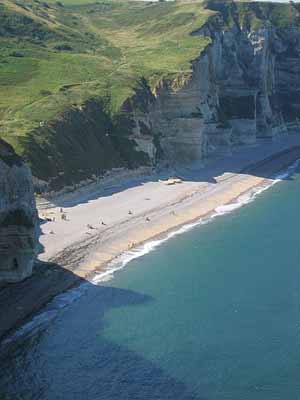 Le Tilleul Beach near Etretat ©Creative Commons
Visiting other regions of France? This French Beach summary can give you an idea of the varity of climates and beaches available in France.
---
DDay Normandy Invasion Beaches
On June 6, 1944 (D-Day) during WW II on the beaches of Normandy landed thousands of allied troupes to free France from German occupation. From the success of this and the following battle of Normandy the war turned in favor of the Allies. Much blood was shed and lives lost.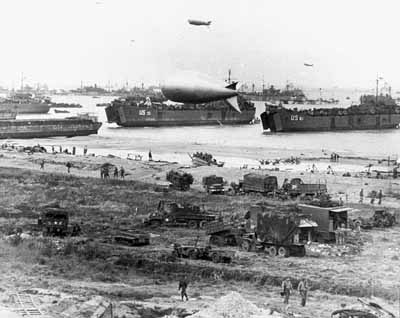 Normandy D Day Beaches
D Day Normandy invasion beaches are on the Côte de Nacre, which is between the rivers of Orne and Vitre.
The landings operated under the code names Utah, Omaha (American troupes landings), Gold, Sword (Canadian) and Juno (British). Free French soldiers that also fought in the effort.
Sites to visit:
Museums – towns with good war museums of D-Day Landing and Battle of Normandy exhibits:
St Laurent-sur-Mer : Omaha Beach in Normandy Museum
Bayeux : Musée Mémorial de la Bataille d Normandie
Caen : Memorial de Caen
Mère Eglise
Cherbourg : Musée de la Libération at Fort du Roule
Arromanches-les-Bains : the remains of Mulberry Harbors ; and Musée du Débarquement
Check out this Normandy map to see where these sites are located.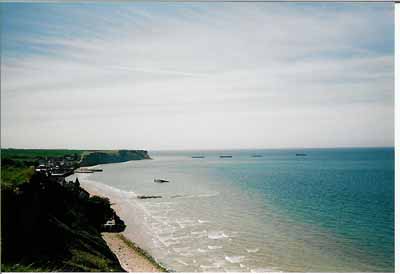 Mulberry Harbors ©Dennis Peeters
Cemeteries of American, British, Canadian, Polish and Germans in Normandy:
In the towns of La Cambe, Rainville & St Laurent sur Mer.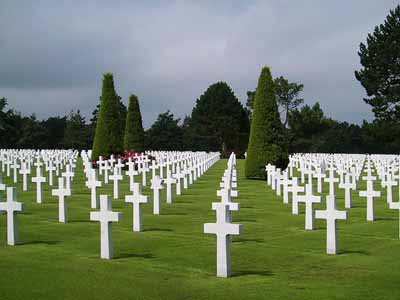 American Cemetery near Omaha Beach in Colleville sur Mer ©Tristan Nitot
Pegasus Beach where the first French house was liberated.
Getting There:
Driving from Paris to the D Day beaches in Normandy is only about 3 hours.
This Driving in France guide will help you with the basics as well as car rental information.
If you don't have a car you would do well to do one of the many Normandy D Day tours available. Try the tourist office in Bayeaux or Caen for more information.
---
Summer Vacation French Beaches in Normandy:
Good beaches can be found at Courseulles sur Mer, Luc sur Mer, and the popular chic resorts of Côte Fleurie.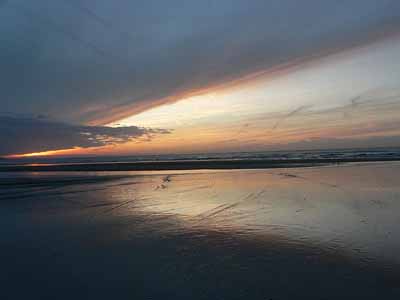 Côte Fleurie, Deauville ©Marc Liger
The beaches are long and sandy plus Normandy has beautiful coastal drives.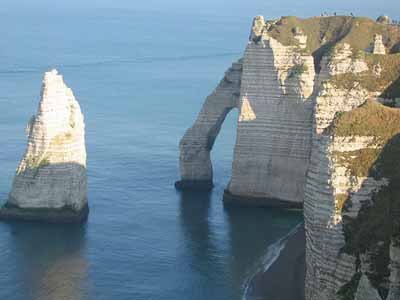 Etretat Normandy Cliffs ©Creative Commons
Etretat Normandy is a popular town and site for its stunning steep chalk cliffs that drop to the sea.
---
Mont St Michel

Mont St Michel
Mont St Michel is one of the most popular tourist attractions in France.


Nearby things to do in France and Places to Visit:

Where to Stay? Want to rent a cottage or villa? Here is a self catering France guide to get you started.

Try camping in France on or near the beach. 5 star French campgrounds are like resorts or camp rough under the stars.

What to Eat? France food is the best. Here is a great guide to make ordering easier.

Visit the must see monuments of Paris only 3 hours away.

Understand the Culture of France by taking your time and visiting the villages and local museums.



Return from Beaches in Normandy to French Culture Adventures
Copyright ©2023 by Deborah Dutton, French-Culture-Adventures.com
All rights reserved