Louvre Paris France
Paris Culture
Be Engulfed in Art
The Musee du Louvre Paris France is huge, housing over 30,000 works of art. A must see on your visit to Paris and your exploration of Paris culture. Take a tour, or choose which type of art are you're interested in and go to that. Special exhibits may interest you so check out what's showing when you're there. During the week, in the morning is the best time to not be engulfed by crowds. If you want to see the Mona Lisa, and who doesn't, make a bee line first thing in the morning. Otherwise, be prepared to be 5 sometimes 10 rows back in a crowd that nudges its way forward to the front. So you will see it. I guess I prefer no one around but let's get real, that is not possible.
Built as a fortress in 1190 to protect Paris from Viking raids. Rebuilt during the Renaissance by Francis I (reign: 1515-1547), then 400 years of improving and enlarging by the French kings and emperors to the present. IM Pei the architect in 1989 designed and built the pyramid (main courtyard).
First opened as a museum in 1793. Houses over 30,000 works of art. It is huge, some say the world's largest, and definitely contains one of the most important art collections in the world.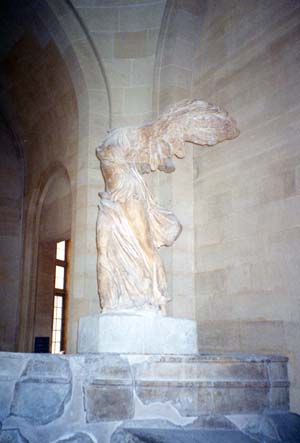 Winged Victory
Louvre Paris France
Star Museum Attractions
Mona Lisa (1504) by Leornado DeVinci
Venus de Milo (2nd century BC)
Winged Victory (2nd century BC)
Marly Horses (1739) by Guillaume Coustou
The Dying Slave (1513-1520) by Michelangelo
The Lacemaker (1665) By Jan Vermeer
The Raft of Medusa (1819) by Theodore Gericault
Liberty Guiding the People (1830) by Delacroix
The Most Important Collections
Antiquities (6000 BC to the fall of Roman Empire) World renowned collection – Oriental, Egyptian, Etruscan, and Roman
European Painting, 1200 - 1850 40% French artists. (any after 1850 are in the Musee d'Orsay)
Objects D'Art (starting from 1st Century AD) decorative art – precious objects, large collection of French Furniture, Tapestries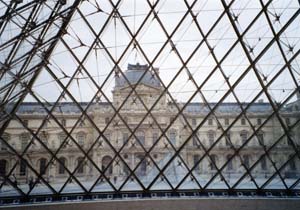 view out small pyramid
How Not To Be Overwhelmed
Because of its importance in the world of art and prominence as Paris' most important museum it is crowded, some say only 2nd to the Vatican.
Go off-season during the week for fewer crowds. If that's not possible don't worry, once you get in it's so huge that it's not so bad. Again, if you want to see the Mona Lisa and not have many rows of bodies in front of you go at soon as it opens and make a bee line for it or, go just before closing, as the museum stays open some nights late. Visit the museum's official website for most up to date times and exhibits.


Have A Plan
It's best to have some kind of plan for your visit. I find if I don't, after awhile I'm so oversaturated that I stop seeing anything.

Take a 90-minute guided tour or take advantage of the brochure at the information desk for "Visitors in a Hurry" self-guided tour to see the highlights like Venus de Milo and the Mona Lisa. There is also a 4-hour audio tour available at the museum entrances.

Buy your tickets ahead. In the US and Canada at ticketweb.com, other countries: fnac.com or ticketnet.com. Tickets also available at participating stores in Paris. Or, the Paris museum pass includes the Louvre and many other museums.
Louvre Museum Paris France Fun Facts
Want to get a head start on your visit? Here's some fun and interesting facts about the Louvre.


Return from Louvre Paris France to Tourist Attractions in France
Return from Louvre Paris France to French Culture Adventures
Copyright ©2022 by Deborah Dutton, French-Culture-Adventures.com
All rights reserved