Easy French Toast Recipe
for
Popular French Food at Home
This easy French toast recipe is quick and makes a delicious breakfast for your family, or do as the French and make this one of your easy French recipes for dessert.
Is French toast French? Yes. Pain Perdu, literally "lost bread" evolved as a popular French food at home in the days when resources were limited and people could not afford to throw away stale bread. However, it was never served for breakfast like we do in the US. Today one of their quick easy dessert recipes, the French serve Pain Perdu very simply with powdered sugar.
This French toast recipe is adapted from a recipe for easy French desserts. The difference from American French toast recipes is the delicious rich quality that comes from cooking with butter. Plus, there is a lot less sugar (which I like) and no vanilla.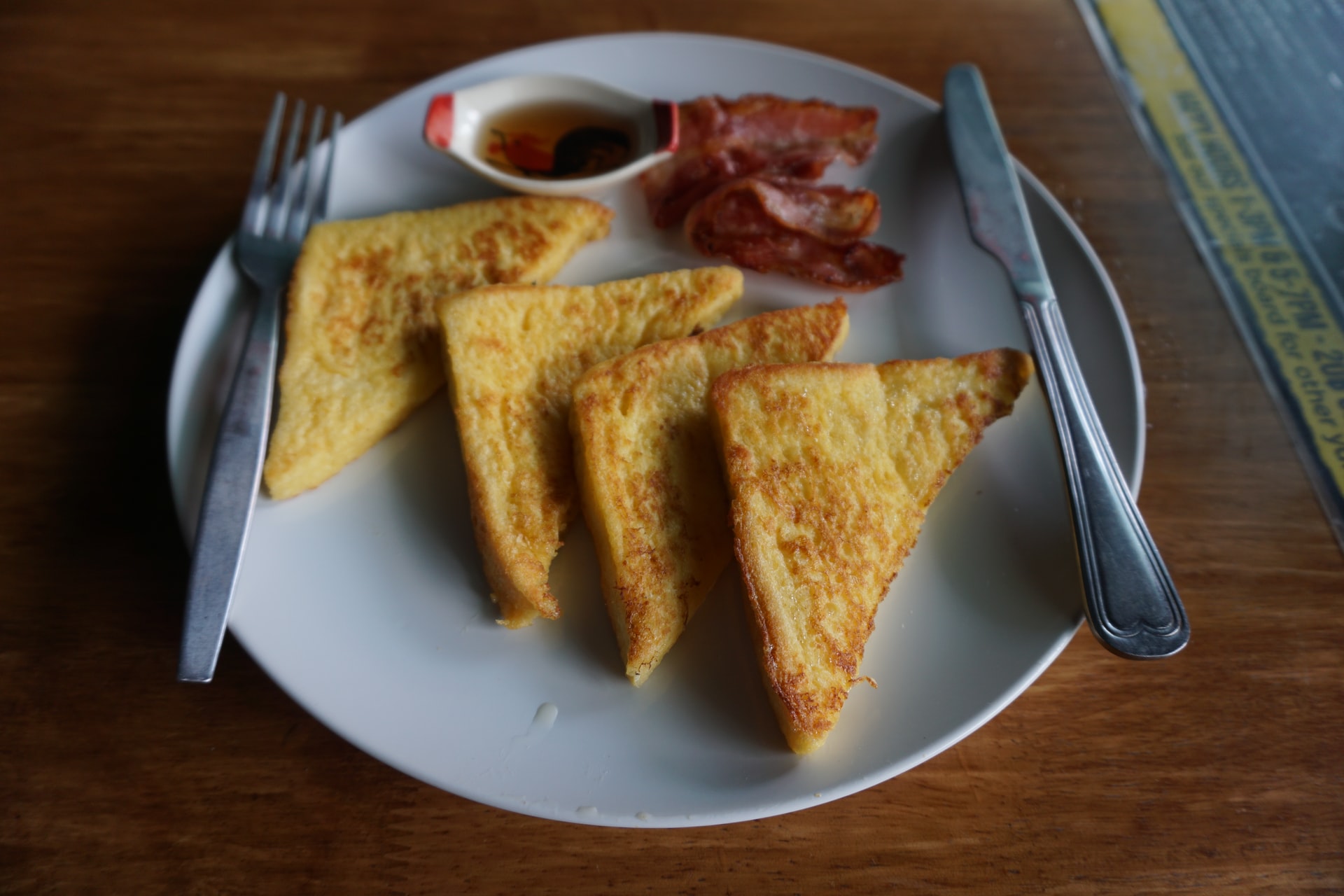 Easy French Toast Recipe (Pain Perdu)
Prep time: 5 minutes
Cooking time: 10 minute
Serves 6
<b>Ingredients:</b>
2 ½ cups milk (60 cl)
12 slices of stale bread
3 eggs
¼ lb + 2 T unsalted butter (150g)
1 Tablespoon sugar
Powdered sugar (optional)
Easy French Toast Recipe
step by step guide:
1. Preheat oven to 200 degrees F.
2. In a bowl whisk together eggs, milk and sugar.
3. Add to the milk mixture 1 or 2 slices of bread at a time, tuning until saturated but not falling apart.
4. Melt a portion of the butter in a skillet over medium heat. (be careful not to burn the butter).
5. Add bread to the skillet a few at a time making sure there's space around each one (so you can turn them over easily).
6. Brown the slices until golden then turn and cook on the other side.
7. Remove and place on a paper towel.
8. Melt more butter in the skillet each time and continue until all the slices are done.
9. Place in oven to keep warm until all the slices are done.
Serve sprinkled with powdered sugar
or
Pure maple syrup (the non French way)
Serve Immediately!
More on France Food and Recipes:
This Baked French toast recipe is an easy addition to brunch.
Want to discover traditional French food?
In France food is a big part of the culture
and delicious.
Hosting a dinner party? Try these
easy French recipes for your next event and make a big splash
.
Are French menus confusing?
A guide to France food restaurant menus for eating out in France with confidence
.
Food is one of many important aspects of
the culture of France
.
How about a romantic dinner party for two?
What a great occasion to try out some of these French love phrases
.
Return from Easy French Toast Recipe to French Culture Adventures
Copyright ©2022 by Deborah Dutton, French-Culture-Adventures.com
All rights reserved