Roussillon to Avignon France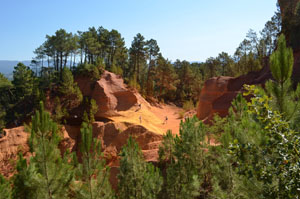 Roussillon ochre cliff walk
Day 7, September 14

In Roussillon we walked the Sentiers des Ocres down the ochre path into the orange canyon. The small fee is worth the view of the red cliffs and formations. As early as 35,000 years ago and until WW II ochre had been in use for coloration. Ochre is a clay where they extract the orange color. Roussillon sits on the largest ochre deposit in the world. Today mostly artists use it for non toxic color.

Just outside the ochre cliff walk is the beautiful art gallery, Les Compagnie des Ocres. They show several artists work who use the ochre. We bought a beautiful ceramic bowl made of ochre and pigments from the area.

Walked around Roussillon a bit more before departing towards Avignon.

They grow a lot of fruit in Provence and their were many fruit stands along the road. We stopped and bought some delicious looking pears and apples.

In Avignon we checked into our hotel,
IBIS AVIGNON CTRE PONT EUROPE
just outside the old walls. Very easy walk across the street and through the medieval walls into town.

Top of our list to visit is le Palais des Papes. In 1305 the Roman Catholic church moved its headquarters here complete with pope. After many Avignon popes they moved back to Italy about 1403. The is the palace where they lived and held court.

Le Palais des Papes is a gigantic place. A very good audio guides you through the many many massive rooms. No furniture so you need to use your imagination. After a while it became a bit tedious so next time I'd go through the rooms more quickly.

Next we walked the town streets to le Pont d'Avignon (Avignon bridge) officially named Pont St. Benezet. This bridge over the Rhone river is made famous by the French children's song "Sur le pont d"Avignon, on y dance"... You need to pay to get on it but well worth it. The bridge was built starting in 1171. Due to floods at various times the bridge collapsed and was never rebuilt to connect to the other side. The views of the river and the city are stunning from here.

Provence table linen had been in production as early as the 17th century. There are many shops which sell them. I had time to stop at a shop where I bought a jacquard Provencal table cloth.

Very tired, we pulled ourselves up the stairs into the lovely Le Jardin du Rochers des Doms, the city park. We only had a little time. The park was closing and the guard herded us all out. A very nice place to visit with sweeping views of the surrounding countryside.

For dinner we had a recommendation from a French school friend of Gildas for a restaurant called Basilic Citron. On a quiet square we were the first in the dining room (of course). The food was Moroccan influenced and very delicious. By our second course the place filled with patrons. The owners/servers were such sweet people, fabulous service, hi end food at a reasonable price.

Walked home following part of Rick Steves' recommended walk through town.

Finished with the guided walk we emerged outside the medieval walls along the main road to walk towards our hotel. This it appears is where the prostitutes hang out. They have a white van with a light in the windshield. When the light is on they are available and when it's out they are busy. We spotted 6 of these white vans in the space of three blocks. Eye opening and sad.

Join in and write your own page! It's easy to do. How? Simply click here to return to Our Travels in Southern France Bog.
Copyright ©2022 by Deborah Dutton, French-Culture-Adventures.com
All rights reserved