Hotel de Paris
Monaco
And the Levitating Croissant
I stayed at the Hotel de Paris Monaco, right on the main square by the Casino. I was able to stay at this highly expensive hotel, (cheapest room in low season is EUR425/night) one of the luxury hotels in Monaco, because I was on business.
The room was a bit small, and with a so-so view, but the bath was sybaritic (I know this from actual field work conducted on site), the sheets were a few thousand thread count, and the down comforter was very downy. The aroma of the room was a mixture of lavender and beeswax -- soothing in the extreme.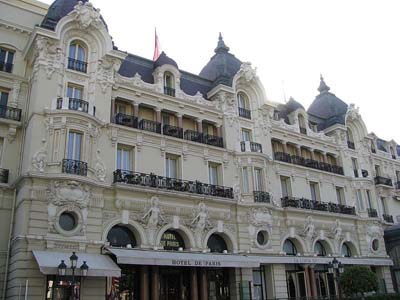 Hotel de Paris ©creative commons
Hotel de Paris Monaco 5 Star Luxury Hotel
Super Fashionable, Wild and Bounteous Monaco

Monaco. The very name brings fantasies of James Bond, super-fashionable casinos, massive wealth, bounteous (and expensive) shopping, wild parties, and a bit of skulduggery. The reality? All are true, to an extent. I never met Mr. Bond while there (though I did chat with several Bond women), the casino is a let-down (though I did win enough for a wonderful dinner for 2), the money is truly massive, the shopping is great (assuming you have massive money), the parties definitely can be wild, and as to skulduggery, I shall remain silent. What I can say is that it's a 100% safe walking city, with a few wonderful museums (the oceanographic museum in particular), several to-die-for hotels, and world-class restaurants. After all, Monaco today earns its living as a high-end convention spot.
---
Other Luxury Hotels in Monaco and Monte Carlo:

ADAGIO MONACO PALAIS JOSEPHINE


Grand Mercure Nelson Monaco Apartments


...And More Favorite Monaco Hotels
---
As fortune would have it, my traveling companion accompanied me on this trip. Now, my traveling companion is very amenable to luxury, and the Hotel de Paris Monaco and its facilities (do not get a spa treatment without securing a loan first) suited her just fine.
Hotel de Paris water view ©creative commons
During the days while I was working (yes, really working) she partook of all Monaco had to offer, and was suitable pleased. In particular she positively commented on languorous afternoons in cafes, enjoying the feel of her new shoes and other leather goods. She also enjoyed a party I had to attend on one of the larger yachts in the harbor. (I was informed that filling the gas tank cost $200,000.) We only caught a glimpse of all of the yacht's features (such as a chopper, 2 pools, cinema, spa, 1000 bottle wine cellar), but rest assured that even Mr Bond (had he been in town) would have been impressed.
Hotel de Paris Monaco - Breakfast
But what stuck in my mind (and that of my traveling companion) from our visit to Monaco was breakfast at the Hotel de Paris Monaco. The aromas of bread, chocolate and freshly pressed linen nearly overwhelmed us as we were politely greeted by the maitre d'. My traveling companion (a European herself of gentle breeding) slipped seamlessly into French as she responded very positively to the offer of cafe au lait to start. (Tea for me, as usual.) And then the baked goods came...and came. Brioche. Croissants. Pains au chocolat. And more. We were even presented with three (count 'em!) choices of freshly made butter, comb honey, home-made marmalade, and alpine strawberry preserves that almost had me singing. My traveling companion found herself in need of sustenance after an active evening (I think it was that sybaritic bath) and tucked in to our never-empty pastry basket with special relish.
And that's when it happened. She put a croissant on her plate (using the hotel's silver tongs, of course) and, as if in a dream, that fluffy, layered curve of golden goodness actually lifted off the plate and floated for a moment, before returning to rest, awaiting the favor of its Mistress, my traveling companion, who carefully broke a piece off, adorned it with those alpine strawberry preserves, and popped it into her pursed, carefully lipsticked mouth. Her eyes closed as she let it linger on her tongue, followed by several sighs as she gently consumed what had to have been the best croissant she had ever had. She was so happy at this -- our last breakfast together in Monaco. She leaned over, held my face, smiled a big smile, and kissed my cheek, leaving a large, red smooch mark that I left on for the rest of the meal, and bit of time after, as well.
The lovely Hotel de Paris Monaco. Excellent food. Wonderful service. And my happy traveling companion. Life is good.
Author: John from Connecticut
Avid traveler and humorist.


Return from Hotel de Paris Monaco to French Culture Adventures
Copyright ©2023 by Deborah Dutton, French-Culture-Adventures.com
All rights reserved