Sarlat France Travel Vacations
Places to Visit in France
the Dordogne
This is our France travel vacations third leg of our two weeks in France. It reads like a bog. I will be writing in more detail about specific attractions as time permits. Stay tuned by signing up for my blog at the bottom of the nav bar.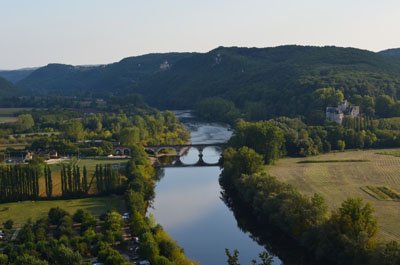 Dordogne River
Places to Visit in France
St Emilion to Sarlat France (Sarlat la Caneda)
via France car travel
2 hours 15 minutes/ 100 mi (162 km)
After lunch we said goodbye to our cousins in St. Emilion and drove off in our rental car. Destination, Sarlat France in the Dordogne river valley. Took hwy A89 vs. the scenic route because it was getting late and it would be quicker (although according to Google maps the scenic D936 is only 4 min longer).
Made our way though the town of Sarlat to our hotel : "Le Mas de Castel"
Hotel Le Mas de Castel
Le Sudalissaut, 24200 Sarlat-la-Caneda
Just outside of town in the countryside. It was a beautiful hot sunny day and guests were swimming in the pool. Since we forgot our swim suits (boo hoo) we lounged in the sun and rested. Our room was very comfortable and resonably priced. The hotel owner is very helpful with ideas on places to see and eat and speaks English.
Check rates and reviews
Other Hotels in Sarlat France:
Drove the short was to the town of Sarlat for dinner at the restaurant, Le Mirador. It's located on one of the beautiful cobblestone streets lined with medieval buildings that Sarlat France is famous for.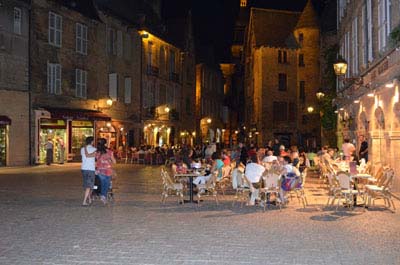 Sarlat
Did a walking tour of town (all the buildings are lit up at night) using "Rick Steves France", one of my favorite France travel guide books.
France Travel Vacations Day 6
Saturday, September 10th
Saturday is market day in Sarlat France. And it is huge and outdoors in the streets. Lots of regional traditional French foods for sale by vendors. Cèpe mushrooms, foie gras, sausages of all kinds, goose, Chantal cheese and lots more. We bought lunch for a picnic. Sausage and cucumber.
See more on the traditional French foods of this region …
I also shopped in the stores along the quaint narrow streets and bought a beautiful blouse at one shop and a Jaquard-like tablecloth at another. Jacquard is just as expensive back home ($250 and up) and the look-alike is beautiful and suits my needs perfectly.
For lunch we stopped at a roadside picnic area next to the river and ate our food purchases. The French picnic a lot on their France travel vacations.
France Travel Vacations next stop: canoeing down the Dordogne river
from Vitrac Port to Benyac
3 hours 45 minutes
Got our canoe at Copeyre Canoe in Vitrac–Port because they pick you up at the other end and drive you back to your car. They were great and I use them again.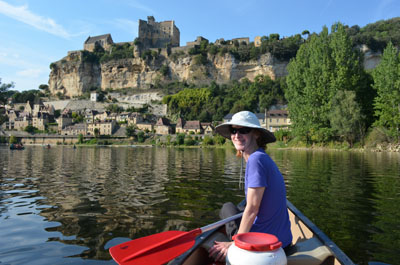 Dordogne River canoeing
Canoed down the river past Domme. In Roque Gagec we beached the canoe and walked up into the village (it's on a cliff edge) and looked inside the little church. Very hot day. Got Italian ices (made with Vitel water so very clean) mine was raspberry, very sweet and cold, just what we needed for energy to do the next leg of the river.
La Roque Gagec
If you don't want to canoe there are tour boats that take you down a small portion of the river. For canoers though, it means you get out of the way because they are bigger than you.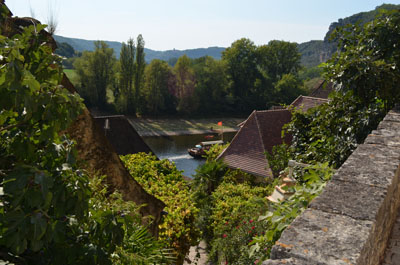 Dordogne River from La Roque Gagec
Castelnau looms over us as we paddled by. Last and final stop was Beynac. Took us 3 hours and 45 minutes. The river was low so it took longer. Listen to the canoe company when they say how long you will be because they know.
We drove to Beynac castle but since it was closing time only saw the outside. Thank goodness cause that's all the energy I had left.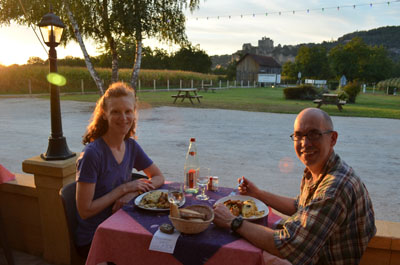 eating with view of Beynac Castle
On the way back to Sarlat, sweaty and exhausted, we stopped by a roadhouse for dinner. Eating outside we felt ok dressed in canoe garb. From the terrace we had a view of the Beynac Castle.
We ate cèpe mushroom omlettes with pomme de terre Sarladaise (that means made with goose fat), very delicious and extremely filling. I couldn't finish it.
And finally, home and to bed.
France Travel Vacations Day 7
Sunday, September 11th
Very early in the morning we drove to one of the Dordogne caves outside of Les Eyzie. We waited in line for tickets to Grotte de Font de Gaume. There are only 12 people allowed per tour so tickets are few. There are tours throughout the day however. This is the real thing. Featuring lots of Bison.
Hostellerie du Passeur
Place de la Mairie, 24620 Les Eyzies-de-Tayac-Sireuil
Fabulous lunch at Le Bistro du Passeur in the 3 star hotel Hostellerie du Passeur in Les Eyzie sitting outside on the terrace next to the Vezere River. Started with courgette (zucchini) soup with olive oil flavored with nettle pears, followed by rolled chicken around vegetables and a tisane (herb tea) to finish. The hotel from the lobby looks like a beautiful upscale and peaceful place to stay.
Check rates and reviews
Up the hill is the Musée de la Prehistorie we looked at all the prehistoric displays plus videos showing demonstrations. Very good museum giving you the history behind what this area was all about.
Our France travel vacations to the Dordogne caves would not be complete without visiting one of the most famous tourist attractions in France, Lascaux II. It is an exquisite reproduction of the original. (visitors are no longer allowed in the real cave)
Home to Sarlat for dinner but since it was Sunday night most restaurants were closed. Found an ok place and ate regional traditional French foods of confit de canard with Sarladaise potatoes.
France Travel Vacations Day 8
Monday, September 12th
This is our last day here. We got up early and went to Castelnau when they opened. Then drove to Domme and walked around (free parking next to the town park). Picnic in the local park overlooking the Dordogne river valley.
Next we drove towards Rocamadour stopping to see a goose farm. This is the area where they raise the geese for pate de fois gras. In Rocamadour parked for free next to the castle. Walked down the path of stations of the cross, 1 km long (you can take an elevator). At mid level visited the Chapel of the Virgin. Very beautiful. Walked down the next flight of stairs to see the city. And walked back up all the way.
If you like France travel vacations without the crowds the Lot River valley is stunning and peaceful with few tourists. We plan to go back and explore this area further.
Drove to beautiful Autoire in the Lot river valley, through Loubressac, to Martel for dinner. at "Auberge des 7 Tours" in Martel.
Auberge des 7 Tours
The best meal we ate this whole trip. Looks like a nice quiet inn to stay as well. Seemed like a very French place to stay as there were only French vacationers in the dining room who seemed to be staying at the hotel.
Avenue de Turenne, 46 600 Martela
Auberge des 7 Tours website
And then home and fell into bed.


Other Helpful Articles:
Things in France to do outdoors
Return to French Culture Adventures Home