A day and a night in Collioure France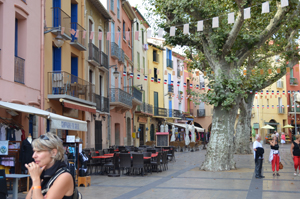 Collioure
Day 3, September 10

Woke up to a beautiful sunny day. Donned our swimsuits and walked the short way from our hotel, Hotel St. Pierre, to Port D'Avall beach. This is the sandy beach, one of three in town. Donned our goggles and me my cap and did laps in the Mediterranean between the shores of Chateau Royal and the other jetty.
The water was cool and felt wonderful. A swim in the Med. is the greatest thing for jet lag.

Properly showered and changed at our hotel, we made our way to the local grocery and picked up some rillettes, cucumber, fruit and buckwheat crepes (from Brittany) and walked to our beach for a picnic on a bench facing the sea.

Walked around town after lunch, checking out the medieval section of town, looking at the shops. Many famous French painters and non French painters have come to Collioure because of the quality of the light. Matisse, Picasso, Chagall, Dufy, Braque and Derain all have painted this lovely town with it's pink buildings and vermillion sea. There are spots around town with empty picture frames set up so you can look through to get the view famous French painters Matisse and Derain depicted.

Took a drive up and up above town around hairpin turns through vineyards to the top overlooking Coullioure, its neighbor Port Vendres, and the Pyrenees on the other side. There is a hike from here to Madeloc Tower with fantastic views but it was already too late in the day. We will hike it next time.

Continued our drive down though vineyards to Banyuls-Sur-Mer, the last French seaside resort before Spain. It has a well known seawater therapy center. Drove home via the Cote Vermeille (vermilion coast) so called because of the color of the landscape.

Home in Collioure in time for dinner. (I would hope so since they don't start serving in France until 7:30pm). Walked along the quay to the restaurant suggested by our hotel owner, Cocoliberis. Last night it was closed with a sign on the door saying there were no fish so they didn't open. Hmmm. Anyway, tonight they were open with tables outside with a beautiful view of the Chateau across the water.

I ordered the anchovies and Gildas the sand dabs.
We waited and waited and waited and waited. Seriously tired and hungry we waited some more. At some point Gildas overheard the man at the table next to us (they had finished their dinner by now) say that he is a chef by profession and couldn't help noticing that it was taking a long time for people to get their dinner. The waitress replied that during the season they had a chef that always yelled at the waitresses to hurry up and they didn't like it. At the end of the season he was fired. Who is cooking now is actually part owner and the person who catches the fish for the restaurant i.e. not a professional chef. Oh brother!
Finally we got our dinner. It was delicious, very fresh. The anchovies were tasty little fish with bones to deal with but I learned.

Towards the end of the dinner the waitress came over (she stayed away during our wait) and said she'd bring out the chef/fisherman to tell us all about the fish. (The kitchen closed by now it being 10/10:30). The fisherman cum chef told Gildas that he catches all the fish for the restaurant. He only serves what he catches which is why during our wait they turned away several potential customers because the fish were all accounted for by the likes of us. To catch anchovies (this area is famous for anchovies) he puts out a light and they jump into his net thinking, I guess, it's a fly or something. The fish are much fresher that way because they are alive when brought on board. With commercial net fishing they drag the net and all the fish get pushed against each other, smother and die. So when they are dragged on board they are dead. I think I'd rather have a dinner of smothered fish in 30 minutes than wait 1 ½ hours for one that was clobbered on board. It was a very good dinner despite our extreme fatigue and let's not forget jet lag. All part of our exciting adventure in France.

Join in and write your own page! It's easy to do. How? Simply click here to return to Our Travels in Southern France Bog.
Copyright ©2022 by Deborah Dutton, French-Culture-Adventures.com
All rights reserved