Brittany Cottages France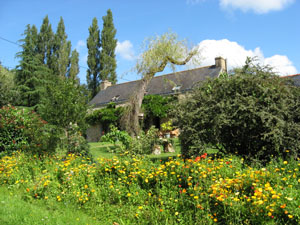 Our Holiday Rental - Front Garden
Our family's Brittany cottages France holiday experience was great. Brittany is famous for it's beautiful countryside and small villages and people love to spend their holiday experiencing the rural life in Brittany. …Getting away from their hectic lives, picking up fresh produce in the open air markets, cooking at "home", exploring villages and historic spots and feeling like a native.
We planned our family holiday in August. My 88 yr old dad was coming from Florida, my cousin from New York, my 11 yr old niece from Paris and the rest of us from California. We wanted to find a holiday rental where my dad could be comfortable spending a day at home if he got tired of running around with us, where we could be close to the Golf du Morbihan where the beaches and water are warmer. And, a place big enough for all of us to not be on top of each other.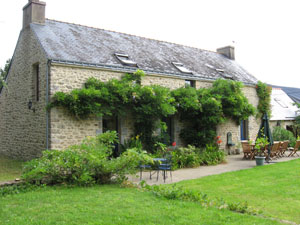 After a lot of searching for Brittany Cottages France we found a beautiful house. With so many of us to coordinate we started our search in February – late. A lot of properties for the prime weeks of August are taken by then. People tend to return to Brittany again and again and book their "favorite" place well ahead of time. Brittany is the number 2 go to vacation spot in all of France. Start your search in December if you'll be going there in the summer. Our house appears to be no longer available to rent. The owners were teachers and took their campervan holidays while they let their house.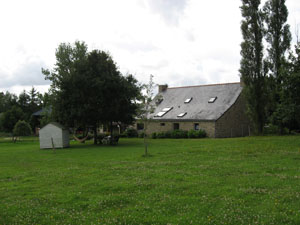 Our Holiday Rental - Backyard
Brittany Cottages France
Rental Companies
We found our Brittany cottages France house through Abritel.fr It is part of HomeAway Vacation Rentals
HomeAway is a worldwide company with 430,000 properties globally. Owners list their chateau/house/cottage/apartment that they want to let, you search for where you want to stay. The properties are listed in Brittany by department. There is email and phone numbers for the owners and you contact them directly. The listing also tells you what languages the owner speaks. We found a gorgeous place. Even better looking than its photos on-line. The site is in French. If your French is sketchy try the UK site France Holiday Rentals
Or the US site: HomeAway.com
They list the same properties.
To reserve your selected property you must give them a deposit payable in Euros or sometimes if the owner is British, in Pounds. For us we arranged a wire transfer. And we negotiated sheets and towels for an extra fee. Other options could be Paypal, or a cashiers check in the appropriate currency.
You can also find great vacation rental deals at TripAdvisor
TripAdvisor is another on-line booking site for holiday rentals. You start by doing a search for Brittany France and then the properties are listed alphabetically by town. There are guest reviews of the property if there are any. But on this site I noticed what also came up were camping properties as well which I think don't belong in the category.
We ate well, saw all the sites had a great family time on our Brittany Cottages France holiday in the Morbihan.
Remember to book early so you can stay where you want. We got very lucky to find this place for August on our February search.




Return from Brittany Cottages France to French Culture Adventures
Copyright ©2020 by Deborah Dutton, French-Culture-Adventures.com
All rights reserved