Map of Brittany For Finding Your Way With Confidence
First lets start from the top down. This map of Brittany shows you where you will be in France. I always like to know where I am in relations to other things. Brittany is France's most western point. Just southwest of Normandy and northwest of the Loire.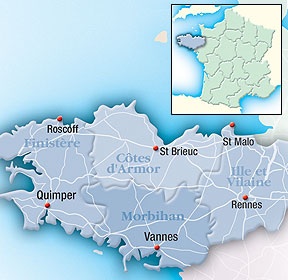 From this Brittany map you can also see the departments.
When we want warm beaches we head to the Morbihan. Southern Brittany France beaches have the warmest water. We spent a week there in the most beautiful cottage rental ever!
The Cote d'Armor which has the most dramatic red cliffed coast and I have to say is my favorite. From our hotel window we had a view of one of these beaches in France on the channel.
The Finistere has another beautiful coast. One of my top favorite romantic vacations spots. Stayed in a castle in the middle of a cow field close to the coast. Great hotel.
---
Now For The Best Road Map of Brittany
Road Map of France
Gildas (my Breton husband) has the best sense of direction of anyone I know and even though he's lived in Brittany and been going there since childhood we still need to refer to a map or we would be lost.
Brittany France is my favorite place because it is still very old world, quaint and not touristy. It's such a fantastic break from my hectic life.
My map expert Gildas says, it's the level of detail that's important.When you get a map, get it to this scale: 1/250,000 1cm = 2.5 km
This fits Gildas' guidelines perfectly.
Scale 1:250,000 (1cm = 2.5km)
IGN (Institut Geographique National) Road Map to Bretagne
At this level of detail it lists all the roads.
---
Now if you want to have all the small village names on the map you need a more detail. The ones below would be a good choice. Scale 1:200,000 (1cm = 2km)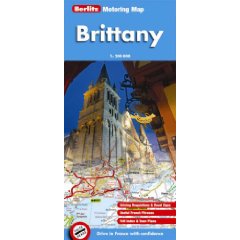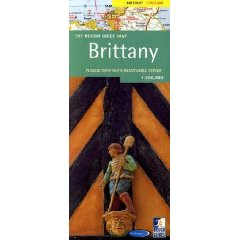 ---
If you really want more detail this map of Brittany should do the job.
Scale 1:180 (1cm = 1.8km)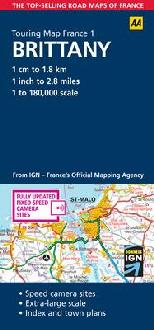 Now that you'll know where you're going, here's
a guide to driving in France
to make your exploring smoother.
Helpful Articles for Visiting Brittany France
Fly there, then rent a car. ...Flights to Brittany

Fly into the capital. Rennes flights are a popular choice.

Where to Stay?
Rent a place of your own. Stay in one of the many quaint gites Brittany

Camping in Brittany offers some of the best camping in France.

Looking to buy a place? Here's a great guide to Brittany buying property in France


Return from Map of Brittany to French Culture Adventures